Out in the middle of Nevada's parched landscape – three hours North of Las Vegas – salty water sloshes through pipes.
It gurgles and churns and it's carried across the desert and into a vibrant blue pond – resembling an oasis of sorts.But in these ponds is an element critical for fueling the electric vehicle (EV) revolution…
We're talking about the world's hottest commodity – lithium (dubbed 'white gold' because of its scarcity and clean energy use).
Now, this one-and-only major U.S. producer in Nevada – the Silver Peak lithium mine – is scrambling to double capacity in the face of soaring lithium demand.
But this is just the beginning.
I'm sure you haven't heard much about this.
But a stirring race for lithium is already underway.
That's because this scarce and treasured commodity holds the promise of revolutionizing clean energy infrastructure and slowing global heating.
So what's the problem?
Well, there just simply isn't enough lithium available right now for what's needed.
And with that in mind…Here's
everything
you need to know about lithium and its:
Booming Demand
Supply Shortages
And how this creates an asymmetric opportunity for savvy speculators
Demand For Lithium Grows Rapidly as The Electric Vehicle Revolution Roars

You need to know that there's so much 'noise' out there within the lithium space.The big one is that while lithium is used in various things – from glass ceramics to lubricating grease – the most important driver for demand comes from battery applications. Specifically in electric vehicles (EVs).But don't just take my word for it – look at the data:
Between 2010 and 2021, lithium consumption nearly tripled. Or said otherwise – grew at 27% per year.
Yet lithium consumption in batteries rose a staggering 107% each year (from 5,405 tons to 69,000 in only 11 years).
Now according to the United States Geological Survey (USGS), batteries alone account for roughly 75% of the entire world's lithium demand.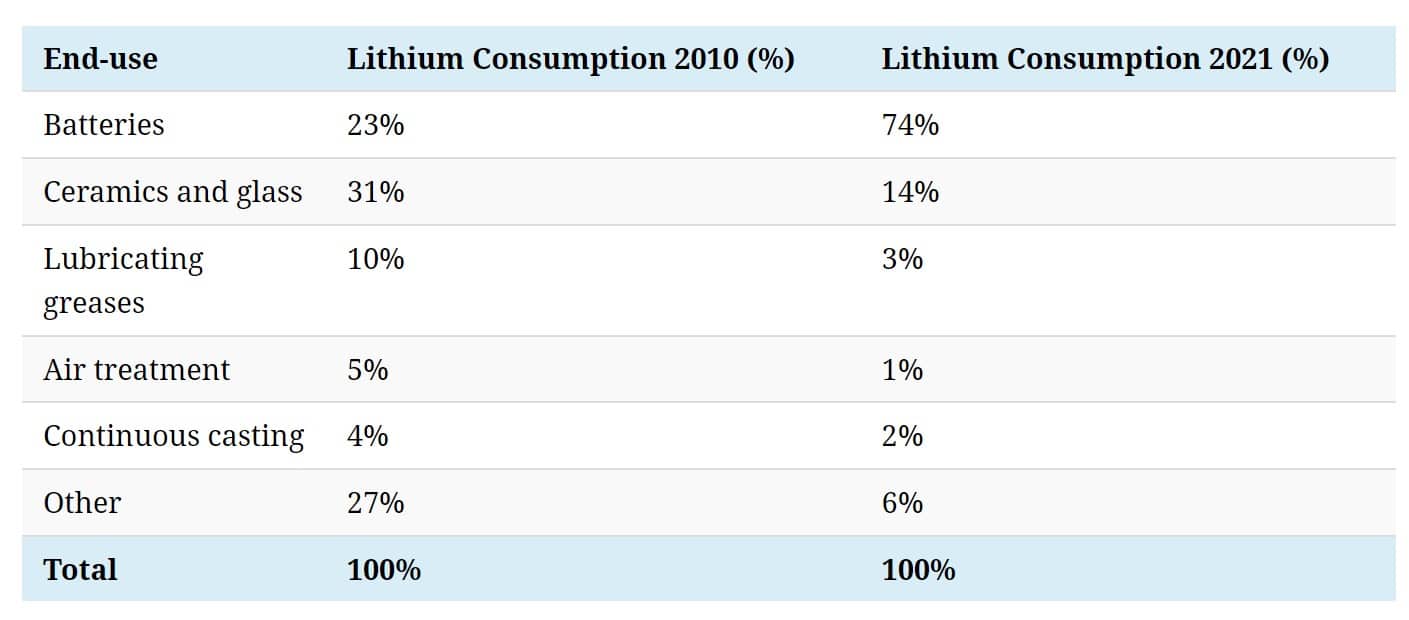 This is a massive gain. And it's almost all from the rapidly expanding EV market
To give you some context, the global share of EVs surged from 0.01% in 2010 to roughly 9% in 2021.
And it's only going to keep growing in the coming years. . .
In fact, S&P Global forecasts that global EV sales will soar in the next nine years. From roughly 5.5 million in 2021 to over 21 million by 2030 (that's an almost 400% increase).
And they believe that 84% of all lithium produced globally will be used for the batteries fueling these EVs.
---
Disclosure: Owners, members, directors and employees of carboncredits.com have/may have stock or option position in any of the companies mentioned: AMLI
Carboncredits.com receives compensation for this publication and has a business relationship with any company whose stock(s) is/are mentioned in this article
Additional disclosure: This communication serves the sole purpose of adding value to the research process and is for information only. Please do your own due diligence. Every investment in securities mentioned in publications of carboncredits.com involve risks which could lead to a total loss of the invested capital.