Partanna, a startup co-founded by former NBA star Rick Fox, has secured a $12 million pre-seed investment from Cherubic Ventures for making concrete that avoids and removes carbon dioxide, which generates carbon avoidance and removal credits in return. 
Partana is now valued at $190 million, according to PitchBook data.
Cement Carbon Pollution
Cement is the most widely-used substance after water. The global cement industry is responsible for emitting 8% of the total carbon footprint, much more than aviation's emissions. 
If the industry were a country, it would be the 3rd-biggest emitter of CO2 in the world, after the U.S. and China. Its emission comes from the huge amounts of CO2 emitted by burning fossil fuels, which is often coal. 
Producing Portland cement, a binder holding the aggregates together, requires heating limestone and other minerals at elevated temperatures. The process releases tons of CO2 into the air. 
And that's what Partanna is trying to change with its unique concrete formulation perfected by the company's co-founder Sam Marshall.
Partanna's Concrete: Removing Carbon Like a Tree
Based in the Bahamas, Partanna was founded in 2021 together by Rick Fox and Sam Marshall. The company claims that its carbon-negative building material is just as affordable, versatile, and durable as traditional cement.
But how Partanna's concrete is made is much better for the environment and the construction industry in general. 
Instead of using Portland cement, a big source of CO2 emissions, the concrete startup is using a special mixture of natural and recycled ingredients cured at ambient temperature. They don't use high-energy process that pollutes the air and warms the planet.
What makes Partanna's concrete a game-changer in the construction industry is the use of locally-sourced recycled components, reduced processing costs, and the generation of carbon credits. 
Brine and Slag 
These are two key components of Partanna's concrete. 
According to the U.S. Geological Survey, the world generates around 190 million – 280 million metric tons of steel slag, a waste product from steel production. 
Meanwhile, about 16,000 desalination plants worldwide are producing brine, which Partanna uses instead of freshwater. If applied at a large-scale desalination plant, Partanna's brine technology can remove millions of units of CO₂ each day. It can also reduce the amount of brine that ends up in the oceans and waterways.  
Using steel slag and brine replaces Portland cement as a binder in making Partanna's concrete. This makes the building material production capable of reducing both energy costs and carbon emissions. 
Plus, the chemical reaction called carbonation during the material's curing process removes CO2 from the air just like a tree. 
While regular cement also does that, it's not as much as Partanna's concrete. As per Fox, each Partanna block can absorb carbon dioxide 100x faster than a regular cement block. 
Since almost all environments contain CO2 and some water, the absorption continues throughout the life of the concrete block. This makes Partanna's building material carbon negative and eligible for carbon credits.
Generating Avoidance and Removal Carbon Credits 
At its current stage, the startup's financial advantage over competitors is largely from carbon credits. The company says that:
"We are entering the market at a very opportune time where we can offer a high volume of credits that meet the criteria for the highest-value pricing."
Partanna is selling carbon credits that come from the production of its concrete. A single block of its concrete generates 14.3 kg (31.4 lbs) of carbon credits. Around 80% of that from the CO2 it absorbs over its lifetime. 
In a sample calculation, the company said that one 1,250 square-foot home would remove almost 130 metric tons of CO2 and avoid another 54 metric tons

.
So, the total avoided and removed CO2 per house is about 184 metric tons. The total carbon credit potential of the house is also the same – 184 carbon credits. Each credit represents a metric ton of avoided/removed CO2. 
So, how does Partanna's concrete carbon removal compares to a tree CO2 removal?
Unlike a tree, Partanna's concrete blocks don't need to be watered. In fact, its brine-based technology doesn't require fresh water at all. Here's how its net carbon removal compares to a tree, without accounting for the avoided emissions: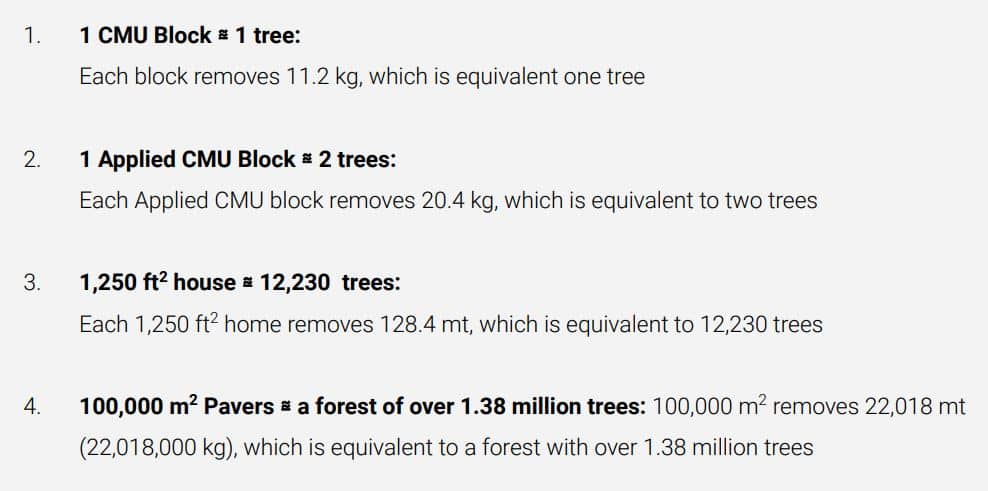 Partanna's standard CMU (concrete masonry unit) block is 25% stronger than traditional CMU
Verra, the world's largest carbon crediting program, approved Partanna and its carbon removal to be listed on its VCS registry last year. It is the first verified carbon-absorbing building material to generate tradable carbon credits.
The government of Bahamas had signed a memorandum of understanding (MoU) with Partanna for the company to supply concrete for 1,000 homes over the next 3 years. The startup also attracted interests from the Middle East with Fox signing another MoU with a real estate developer owned by the Saudi Public Investment Fund. 
By turning buildings into carbon sponges, Fox said that Partanna is "delinking pollution from development".
The $12 million pre-seed funding shows that there's a significant demand for Partanna's concrete carbon removal. It caught the startup off guard, Fox says, which prompts the company to plan a large Series A.