NH Investment & Securities Co., one of South Korea's largest securities firms, is tapping into agricultural carbon offset credits as the sector becomes popular for corporate emitters.
NH is one of the largest securities firms in Korea that offers a broad range of financial services. These include wealth management, investment banking, brokerage and merchant banking through 120+ branches and subsidiaries. 
The Seoul-based finance company is looking to tap the carbon credit market by supporting biochar initiatives in partnership with 4EN.  
Agricultural Carbon Credits
Carbon credits purchases dropped last year. But the demand for them will rise as polluters in sectors with hard-to-abate emissions are under pressure to meet their decarbonization goals. 
There are criticisms over some types of carbon credits like the ones from renewable energy assets. So investors are focusing more attention on other types such as the credits from land-based projects.
The amount of carbon credits created are based on the amount of carbon farmers draw down into the soil. The same goes for GHG emissions they reduce above the soil.
There are plenty of ways agricultural practices can reduce or remove carbon and so generate the credits. It can be nitrogen management, no-tillage farming or growing cover crops. But for NH, it is through biochar.
NH Backing Biochar Carbon Credits
NH parent company Nonghyup Financial Group Inc. is owned by over 2 million member farmers. As per Park Kun Hoo, head of NH's client solution group and oversees a carbon finance team, the network has a potential to generate new credits. 
NH plans to support projects that convert spent coffee grounds or cow manure into a charcoal-like substance called biochar. Biochar is capable of absorbing and storing carbon when it's buried underground.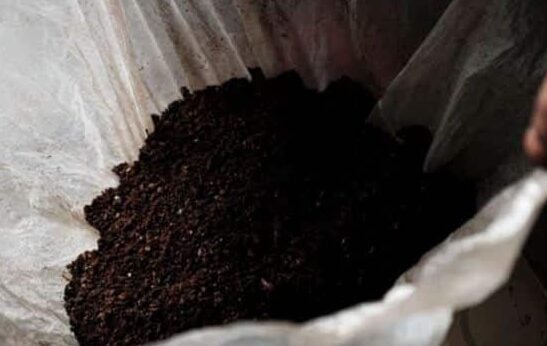 Park noted in an interview that: 
"We can collect and utilize plant residues and animal waste from Nonghyup's massive supply chain in the agricultural sector, and turn them into biochar or even electricity… By doing so, we are not only pushing for more sustainable farming, but also creating carbon credits."
Biochar is commonly used in agricultural applications because it can improve soil nutrients and increase crop yield. And better yet, biochar applications can also increase soil CO2 emissions.
Biochar is a solid material that has high levels of carbon. It is a stable source of carbon because microbes find it so hard to break down. When incorporated into soils, it is 10x to 100x more stable than the material from which it's made of.
That means the carbon contained in biochar is not likely to degrade to CO2 to the same extent as other organic materials.
In particular, a study estimated that biochar can sequester as much as 2 GtCO2 per year by 2050 at a cost of $30–$120 per ton of CO2.
Biochar also offers agricultural benefits such as increased aeration and water holding capacity. Verra, the biggest carbon registry, noted that biochar can significantly contribute to climate change mitigation when deployed at a massive scale. 
Biochar carbon credits are usually priced in the range of $3 to $20+ per MtCO2e. But some biochar projects have sold credits for $110/tCO2e.
The Biochar Deal with 4EN
NH set up a carbon finance team in December last year. It has closed a deal to invest in 4EN, a Seoul-based biochar producer. 
4EN creates sustainable environmental values by developing alternative fossil fuels and quantification of GHG reduction. It focuses on commercializing BECCS/BECCU technology for biomass and waste resources. These by-products are from agricultural fields such as coffee grounds and industrial activities.
BECCS refers to Biomass Energy Carbon Capture and Storage. BECCU means Biomass Energy Carbon Capture and Utilization Pyrolysis. 
NH and 4EN biochar agreement is forecast to generate 167,000 tons of carbon credits by 2030.