Investment Opportunity | Sponsored Showcase
This New Tech Will Disrupt Both Carbon… And Blockchain!
Introducing: DevvStream (DESG)
We're living in very uncertain times…
This means that when it comes to your money, it's critical for you to make the right moves.
And this can be difficult, because so much contradictory advice is floating out there.
Plenty of savvy investors will say that we're on the verge of a massive crash…
That could either happen today, tomorrow… Or yesterday, depending on whom you ask.
If you're looking to protect your money… Carbon could be the perfect sector for you.
As the world battles climate change, carbon credits are the building blocks of this global shift.
It's both expanding fast – global carbon prices doubled just last year… and here to stay.
As countries and companies are adopting more and more green policies… The shift is likely to accelerate over time.
The price of carbon emissions will have to increase, and so will the sector.
The voluntary carbon markets are worth over $2 billion and the compliance market is roughly $900B, according to Ecosystem Marketplace.
And to capitalize on them now, we've identified a company that might just fit the bill.
Disruption Stands on the Shoulders of Giants
In the early 21st century, more and more disruptive technologies have come not from brand-new innovations, but rather combinations of pre-existing ones.
Some of these are in advanced, cutting-edge fields like robotics and machine-learning AI…
And many others fall much closer to home.
Let's take YouTube, for instance.
It was founded back in 2005 and has grown a lot since then.
At its highest point in popularity, YouTube accounted for as much as 60% of all internet video traffic.
The secret to its growth?
Surprisingly, it wasn't any sort of slick marketing campaign. It wasn't a cultural phenomenon either – this came later.
The reason for YouTube's popularity was quite simple: the abundance of cheap digital cameras in the mid-2000s.
And right after… came the iPhone and other smartphones.
Giving the average person the ability to record videos anywhere… at any time.
When this was combined with the growth of the internet…
You had all the elements in place. It was the perfect storm… to build a digital empire.
Now the digital empire builders such as Musk, Bezos, Gates and other billionaires are focusing their efforts on the next disruptive frontier – Saving the planet.
The Next Revolution
One of the biggest investment trends of the last few years has been ESG (Environmental, Social, Governance) investing.
In particular, carbon investing, which aligns with the environmental "E" in ESG.
Bloomberg declared that ESG funds were on their way to hit $53 trillion by 2025.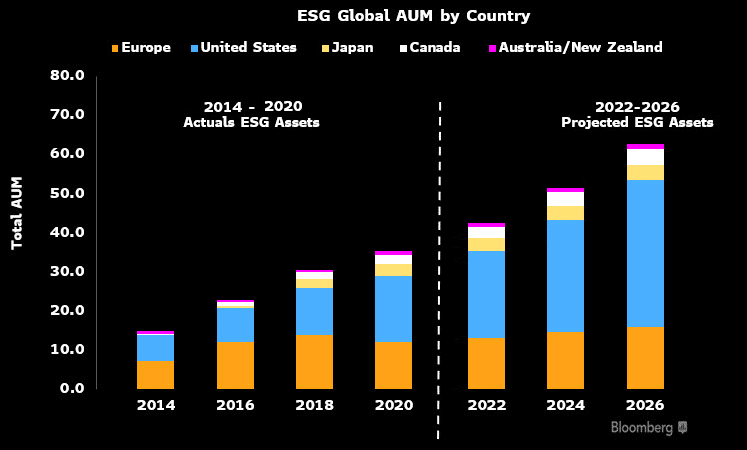 Source: Global Sustainable Investment Alliance, Bloomberg Intelligence
And because total ESG assets under management have more than tripled in the past decade…
Analysts estimate forecasting ESG-related assets under management to hit $41 trillion by the end of this year.
Globally, one in every three dollars of managed money belong to ESG-related assets.
To see the power of ESG investing, you just need to look at how well carbon investments were doing just last year.
Carbon credits were one of the top asset classes of 2021 by return:
The second best-performing ETF of 2021, with a whopping 147% yearly return, was a carbon one. And so was the fourth best.
According to Reuters…
"A total of 18.3 billion tons of carbon allowances traded in 2021 on the exchange, up from 14.3 billion in 2020."
Companies aiming to be negative by 2030 are already investing heavily in carbon credits.
This includes Microsoft, Amazon, Apple… banks like Barclays, HSBC and BMO (which recently acquired Carbon Credit Developer Radicle)
Every day another company jumps aboard the carbon train.
Because according to McKinsey… In order to accommodate future demand, the carbon markets will have to grow between 5x to 15x by the end of the decade…
And by 100x by 2050.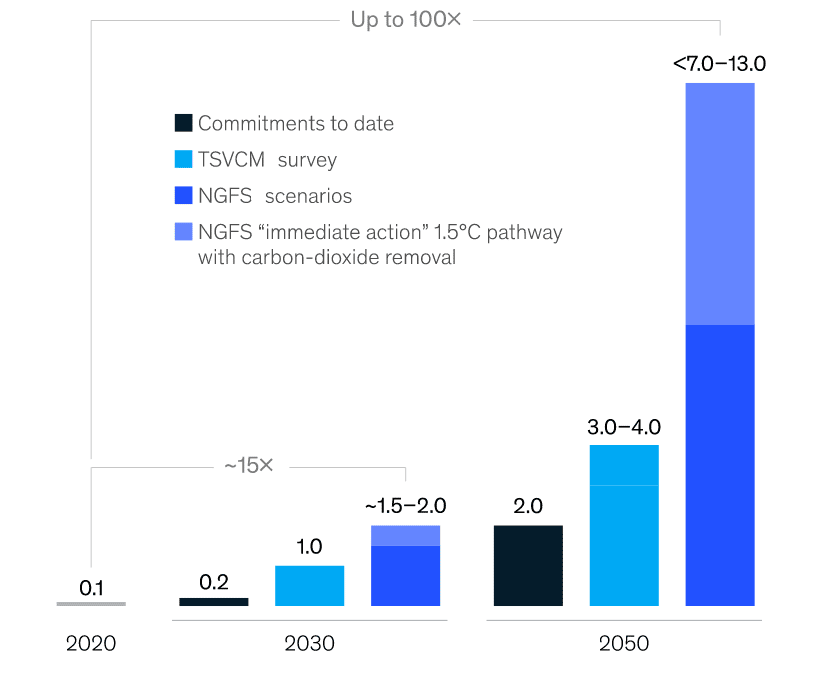 How many sectors do you know with this much promise… and government-backing?
Now…
While ESG and carbon investing are two of the hottest investment trends right now…
They're certainly not the only ones. Another one that's been around for the last few years is blockchain technology.
The most famous application of blockchain technology is Bitcoin which has seen massive swings in the valuations.
This led to an expansion of the underlying technology in Bitcoin and the other cryptocurrencies, which use blockchain.
The benefits of a secure, transparent, and decentralized platform for transactions and record keeping have led to an arms race as sectors adapt to include this new digital frontier:
And it's no surprise that the financial services sector comprises the lion's share of the $5.92 billion global blockchain technology market.
We touched on two of the biggest financial trends with ESG and blockchain…
And a breakthrough will allow you to capitalize on both.
The company we're talking about today plans to stand on the shoulders of both giants… combining them into something entirely new.
The name's…
DevvStream, Inc. (DESG.NEO)
Before we get into DevvStream's management team …
Let's talk about Devvio, DevvStream's parent company.
Devvio's primary business is based on its proprietary blockchain-based ESG platform.
As a B2B service, Devvio provides its corporate clients with a framework for global-scale enterprise management.
It provides fully transparent, regulatory-compliant transaction management… asset tracking and maintenance, record keeping, automation, and yes – even ESG reporting.
It was built with smart contracts through its proprietary blockchain … for a fraction of the transaction cost of other blockchain (i.e. 1/1,000,000th the energy cost of Ethereum). Talk about a 'sustainable' blockchain
On top of this, Devvio's platform is highly scalable, and it can allow for over 8 million transactions per second.
For reference, Visa only sees around 1,700 transactions per second worldwide.
And with Devvio being the majority owner of DevvStream, the latter is fully ready to make good use of its infrastructure.
Let's break it down.
DevvStream, Inc. (DESG.NEO)
(P) – People
As always, it starts with the management team. And this one is pretty exciting.
At the helm, we have CEO Sunny Trinh.
Formerly a professor at Cal Lutheran University teaching their technology MBA courses, Sunny has spent over 25 years in the tech sector.
And it's not his first role in a leadership role either. His experience at tech companies like Avnet Inc. and Arrow Electronics has given him extensive first-hand experience.
So, when it comes to developing new technological innovations and business verticals, most recently in the ESG and carbon markets, Sunny Trinh is more than qualified to deliver.
On top of this, he's already familiar with the Devvio platform, as he was already pounding the table on blockchain solutions and ESG planning while still serving as VP of Strategic Partnerships and Ecosystem at Avnet (NASDAQ: AVT), a $4 Billion market cap semi-conductor leader.
This covers the tech side of things… but if you were hoping to see more knowhow on the ESG and carbon side of things…
Look no further than Chief Sustainability Officer Dr. Destenie Nock.
A PhD in Environmental Engineering and Policy currently also serving as an Assistant Professor at Carnegie Mellon University, Destenie lives and breathes ESG.
She has developed several algorithms for valuing sustainability and equality projects across a number of different industries…
And more recently devised a method for quantifying the air pollution emissions associated with electric transmission and distribution systems.
Then we have David Oliver, Head of Carbon for DevvStream. He's got over 15 years' experience in the compliance and voluntary carbon markets.
David has been a carbon market expert advisor to industry and federal and provincial governments across Canada.
And most recently was asked to spearhead Canada's efforts to establish the first Canadian Carbon Association.
Then we have the board of directors, which is packed with veteran talent as well.
Beginning with the Chairman of the Board, Tom Anderson, who founded and still serves as the CEO of Devvio…
We also have Will Stewart, who also serves as Executive Chairman of one of DevvStream's other partners, Xpansiv – more on them later.
Ray Quintana, Devvio's President, sits on this board as well.
So does Steve Kukucha, who has over two decades of experience in clean tech and renewable power.
Any way you slice it, DevvStream's leadership team is packed to the brim with expertise, connections, and experience in both the ESG/carbon as well as blockchain sectors.
But as you know…
A company needs more than just strong leadership – it also needs assets, tools with which to conduct their business. Which brings us to…
(R) – Resources
No matter how good the idea, every company looking to push the boundaries needs the same thing to work their magic: cash.
DevvStream closed a $10 million financing earlier this year and just went public, leaving them with a healthy cash balance… And no debt on their balance sheets to service.
Because no matter if it's to drive new innovations, grease the wheels, or even just keep the lights on…
No company can succeed if they don't have enough working capital to their name.
And since they've got plenty in their pipeline to spend that money on…
Management is already planning ahead, with a second post-IPO financing expected soon.
Given the interest in the company and how quickly they filled the order book for their IPO round…
DevvStream likely won't have any issues raising the additional capital they're looking for.
(O) – Operations
Let's dig into the specifics on exactly what their business is.
At its heart, DevvStream is a carbon credit streaming company.
Simply put, they provide carbon credits producers with capital.
In return, they get a guaranteed portion of the carbon credits that project will generate.
We've seen the same model work with great success in the precious metals sector…
Where companies like Franco-Nevada grew to become multi-billion-dollar giants using the streaming model.
We're talking about more than 10x returns in these cases.
Time after time, these streaming companies have demonstrated that this business model can create stable, lucrative empires.
Now…
We're talking about a proven, reliable business model.
DevvStream isn't the only carbon credit streaming company out there – there is a modern-day land grab in the sector. But what sets DevvStream apart from its competitors, though, are its partnerships and the ecosystem that they play in both the voluntary and compliance markets.
The first one, we've already talked about. It's the one with Devvio, which is a majority owner of DevvStream.
Through this partnership, DevvStream gets direct access to all of the companies in Devvio's corporate client base who happen to be looking to buy carbon credits.
But that's not all…
They also get the exclusive right to manage the data used to generate the carbon credits from their streaming agreements on Devvio's blockchain platform for transparency and recordkeeping purposes.
This gives them a major advantage over traditional carbon credits.
Because one big issue that carbon credits face in today's marketplace is called "double counting".
It is what happens when two different entities claim the same carbon credit to offset their emissions.
As you can imagine, this is very problematic, as it's harmful to both the environment as well as the integrity of the carbon marketplace.
However…
With carbon credits registered on a blockchain like DevvStream's are… This becomes a non-issue.
You see… Thanks to the inherent transparency and distributed recordkeeping of blockchain technology…
It's very easy to see where each of DevvStream's carbon credits come from, who owns them, and whether or not they've been retired – with no fear of any potential tampering.
Remember Board Director Will Stewart we mentioned just before?
He also serves as Executive Chairman for Xpansiv.
Xpansiv's CBL exchange just so happens to be the leading global market for trading carbon credits.
Last year, Xpansiv had a leading 41% share of the global voluntary carbon markets by value – and transactions by volume were up 288% from 2020 levels:
This kind of explosive transaction growth not only demonstrates just how big the voluntary carbon market is becoming…
DevvStream is in the process of onboarding onto Xpansiv's trading platform.
In addition to having access to all of Devvio's corporate clients, DevvStream can also choose to offload its carbon credits on Xpansiv's CBL market.
It's the largest voluntary carbon credit marketplace in the world, and currently hosts over 90% of all voluntary carbon credit transactions worldwide.
Companies with major net-zero commitments like Chevron, Shell, Walmart, and Goldman Sachs all make use of Xpansiv's trading platform.
And then we have United Cities North America, an arm of the United Nations committed to building sustainable cities and communities around the world.
The head of United Cities North America, Jason Lohe, is actually on DevvStream's Advisory Board.
United Cities will serve to funnel high quality sustainable projects into DevvStream for them to build their streaming portfolio.
With all of these elements in play, DevvStream's plan is aiming to become the leading carbon credit streaming company.
How?
By investing in projects that provide high quality carbon credit streams, sourced from United Cities or elsewhere, and then selling them through Devvio and Xpansiv.
To date, DevvStream already has two contracts locked in with two more expected by the end of the year.
Put together, these contracts will generate up to 5.5 million carbon credits per year – These would be worth roughly $80 million a year in revenue at current market prices.
On top of this, they have LOIs/term sheets for eleven more projects and are actively pursuing another two dozen.
With DevvStream's exclusive access to Devvio's corporate platform, allowing for streamlined certification and sale processes…
We could see them pioneering the way to a global standard for the carbon marketplace – one built on the blockchain.
How's that for disruptive?
(F) – Future
As we said before, the voluntary carbon markets need to grow by anywhere between 5-15x in size by 2030.  This is on top of an already massive compliance carbon market.
And because no real trading program or fund really exists in the markets yet…
There's a lot of profit to be made.
Because the U.N.'s looking for a global standard for carbon credit registration.
And when it comes to registering to some form of blockchain for transparency – which every carbon credit just might end up needing for this global standard…
Devvio and DevvStream are more than ready.
Because DevvStream is the only company doing both a carbon credit blockchain platform and streaming.
And while carbon streaming companies will be shopping for blockchain platforms to leverage their own stockpiles on…
DevvStream will already be there. Waiting.
That's as much of a first-mover advantage as you can get.
(I) – Investors
As we said, DevvStream has just come off its $10 million IPO financing.
They're already planning to raise a further $20-30 million so that they can keep locking in more streaming projects.
But the company isn't just looking to take investor money at no risk to themselves, with a "too bad, so sad" if things don't work out.
Because parent company Devvio is the majority owner of DevvStream…
They have every reason to want the latter to succeed. That's having skin in the game.
In total, management and insiders account for 63% of the shares outstanding.
And if that's not enough, 78% of the company's stock is subject to a three-year escrow.
In other words, nearly four-fifths of the company's stock can't even be sold for the next three years.
That should show you just how dedicated DevvStream's leadership team into making the company a success – they're in it for the long haul.
(T) – Triggers
The need for the voluntary carbon markets to grow past where they are now in order to service the burgeoning market for carbon credits is without question, having already grown nearly 10x in the past decade:
It's hard to deny carbon's potential for growth.
And if blockchain technology ends up playing a pivotal role in that future…
DevvStream is the best set up out of all its peers to take advantage of the opportunity, much like how Netflix was during those pivotal early days of 2008, when it became the first to combine movie rental services with video streaming technology.
What DevvStream has is that same explosive potential, from being the first established in a newly disrupted sector.
Of course, there's still some risk, as with any form of investing. No one can see the future.
But even if blockchain technology doesn't end up becoming heavily interlinked with carbon…
That's fine too.
The benefits of carbon credits managed by a blockchain platform stay the same regardless.
DevvStream's carbon credits would remain high-quality, fully transparent, and wholly accountable from project origin to retirement.
They would keep their triple whammy of access to Devvio's corporate clientele, Xpansiv's world-leading CBL exchange, and United Cities' sustainable project origination.
With a solid leadership team, healthy financials, strong strategic partnerships, and a winning business model…the sky is the limit for DevvStream.
DevvStream is already more than set up for success on its own.
If on top of this, blockchain technology comes along to disrupt the carbon markets…
Just like how YouTube and various other platforms disrupted how we consume media…
DevvStream could become a world leader in the global net zero revolution.
And in these uncertain times, that's an opportunity you won't want to miss.
Regards,
CarbonCredits.com
DeepMarkit Corp.
(TSXV: MKT) (OTC: MKTDF) (FRA: DEP)
Disclosure
CarbonCredits.com publishes introductory corporate profiles based on its assessment of the interest that its readers will have in them. CarbonCredits.com is paid a fee by each corporation profiled. CarbonCredits.com principals may hold directly or indirectly stock in the company's mentioned, and from time to time buy and sell securities in the profiled corporations but not during any marketing or promotional periods. Opinions expressed in this profile as they relate to the outlook for metals, potential for projects, expectations about possible future corporate spin-offs, and potential for share appreciation are the personal opinions of the principals of CarbonCredits.com.