Cloverly, an advanced digital infrastructure that launched the first API for carbon credits, raised $19 million in its Series A funding round led by Grotech Ventures.
With the aim to scale climate action, Cloverly serves 200+ enterprises worldwide across sectors that leverage its platform to manage their carbon credit operations. The Series A financing is for further development of the company's infrastructure.
Participating in the round were leading investors such as Mission One Capital, New Climate Ventures, and CreativeCo Capital. Existing investors include Tech Square Ventures, Circadian Ventures, Knoll Ventures, SaaS Ventures, and Panoramic Ventures.  
Driving Impact at Scale in a Critical Industry 
To meet global emissions targets, the world has to remove an additional 10 billion tonnes of CO2 yearly by 2050. Carbon dioxide removal is crucial to address hard-to-abate emissions to reach net zero emissions. 
The voluntary carbon market (VCM) provides a critical means to drive urgent action by targeting unavoidable emissions today, along with the required emissions reductions to mitigate climate change.
The urgency to deal with climate change fuels the massive growth of the VCM. Expert industry estimates suggest that the market can reach $50 billion by 2030. Despite this, however, the VCM still lacks enough innovations necessary to drive impact at scale in this critical industry. 
Cloverly steps in to address concerns on market access, ease, trust, and transparency by launching the first API (Application Programming Interface) in the world for carbon credits. 
Sharing his insights on the role of the VCM in promoting critical climate action, Cloverly CEO Jason Rubottom said:
"We cannot wait – we need to act now. The importance of the voluntary carbon market demonstrates an unprecedented demand for solutions that allow both businesses and consumers to actively contribute to critical climate action. Cloverly is uniquely positioned to facilitate that engagement and this funding round represents that."
The Atlanta-based startup, founded in 2018, grew to be one of the leading digital infrastructure powering the VCM. Its platform is used by global companies such as Salesforce, Visa, and American Express to power their climate action goals.
Cloverly Carbon Credit API Platform
Both corporate buyers of carbon credits and project suppliers can use Cloverly platform to scale their climate action and businesses. 
Buyers can directly buy quality carbon removal credits through the platform or embed the Cloverly technology into their own products, services, or supply chains. Purchasing carbon credits in the platform comes in three options:
Purchase offsets towards a specific carbon removal project

Invest in a custom carbon offset portfolio

Flexibility to purchase spot, forward, and offtake credits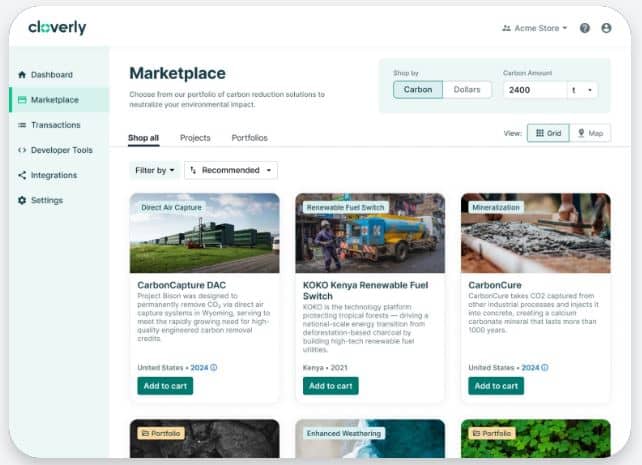 Similarly, project suppliers can also leverage the Cloverly Marketplace™ and the supplier software that enables them to manage commercial operations such as inventory management and tracking of carbon credit sales.  
The new supplier platform offers credits from innovative suppliers such as Therm, KOKO Networks, and CarbonCure.
How Cloverly Platform Works in 3 Steps
1. Flexible Integrations
Cloverly offers flexible integration solutions to fit user product experience from fully integrated to plug-and-play options. Users can procure carbon credits as one-time purchases from the marketplace or as fractional credits to match the carbon emissions of any transaction. Full flexibility also means users can make Cloverly's powerful climate action features feel like an inherent part of their solution.
2. Purchase High-quality Carbon Credits
Cloverly purchases and retires verified carbon removals and offsets in the amount needed to cover user's carbon emissions. So whether it is one customer's transaction or the entire business's footprint, Cloverly can make any activity carbon neutral.
3. Reporting and Visibility
With each purchase, Cloverly produces a unique transaction receipt and certificate with the carbon credits purchased and the impact created. This helps the customer intuitively understand the real-world effects of their climate action.
On the Dashboard, Cloverly aggregates transactions and enables custom reporting to help users track their progress toward becoming climate-positive.
Addressing the Growing Market Demand
The $19 million financing brings Cloverly's total fundraising to $21.1 million. 
The Series A financing will fund more development of Cloverly's digital infrastructure for the voluntary carbon markets. These include the new supplier platform to help buyers, suppliers, and any other company to easily scale their climate impact. 
The new funds will also support growing Cloverly's team and opening another headquarters in London to address global customer demand. 
One of the original lead investors in the company remarked that the tech startup's growth is a "testament to their continued innovation to meet this critical market need."