The UN Intergovernmental Panel on Climate Change (IPCC) released its 6th Assessment Report with a key message that the planet is running out of time to secure a livable future unless a radical action is taken.
Marking the launch of the IPCC report, UN Secretary General António Guterres said in a statement:
"The climate time-bomb is ticking. Humanity is on thin ice – and that ice is melting fast… Today's IPCC report is a how-to guide to defuse the bomb. But it will take a quantum leap in climate action."
IPCC's AR6 Synthesis Report
The IPCC climate report is the culmination of over 6 years of work by hundreds of scientists. It draws on their findings and offers a detailed assessment of how the climate crisis unfolds. 
It is a synthesis report combining 3 working group studies on climate science and special reports on land, oceans, and how to hit the critical 1.5℃. 
The main finding is not new; in its previous AR6 report, the IPCC has been clear about this concern. But this recent synthesis report paints a grim picture of what the Earth will look like if humans don't act now. 
The report authors stated that the effects of climate change are worse than had been expected in the panel's 5th Assessment report released in 2014. These effects include sea level rise, severe flooding around the world, more dangerous heat waves, and extreme drought. 
Last year, widespread flooding hit Pakistan, affecting 33 million people and causing $30 billion in damages, the World Bank reported. Heat waves also leave some parts of the U.S., Europe, and China baking.
Scientists blame the burning of fossil fuels for over a century for the rise in global temperatures to 1.1℃ since 1900. Fossil fuels still make over 80% of the world's energy and 75% of human-related carbon pollution. 
Concentrations of carbon pollution are at their highest level for over 2 million years. Meanwhile, the temperature rise rate over the last

50 years is the highest in 2,000 years

.
With further warming, climate change risks will be increasingly complex and more difficult to manage, according to the report. Both climate-related and other drivers will increase risks across sectors and regions. For instance, climate-driven food insecurity and supply instability will increase with rising global warming. 
The report shows potential risks and impacts of climate change on natural and human systems at different global warming levels. 
To limit further worsening of the climate crisis, carbon emissions have to go down by 60% by 2035, the authors noted. That means a radical change in energy supply – moving away from fossil fuels and investing in renewable sources. 
The authors further wrote that:
"There is a rapidly closing window of opportunity to secure a liveable and sustainable future for all." 
But there's still hope. 
The Hope is to Act Now 
Preventing the planet from experiencing the worst effects of climate change calls for greater investment in mitigation and adaptation options. The IPCC report suggests several opportunities to scale up climate action. 
Here are the authors' insights of the potential contribution to 2030 net emission reduction by those options in the near-term in different sectors.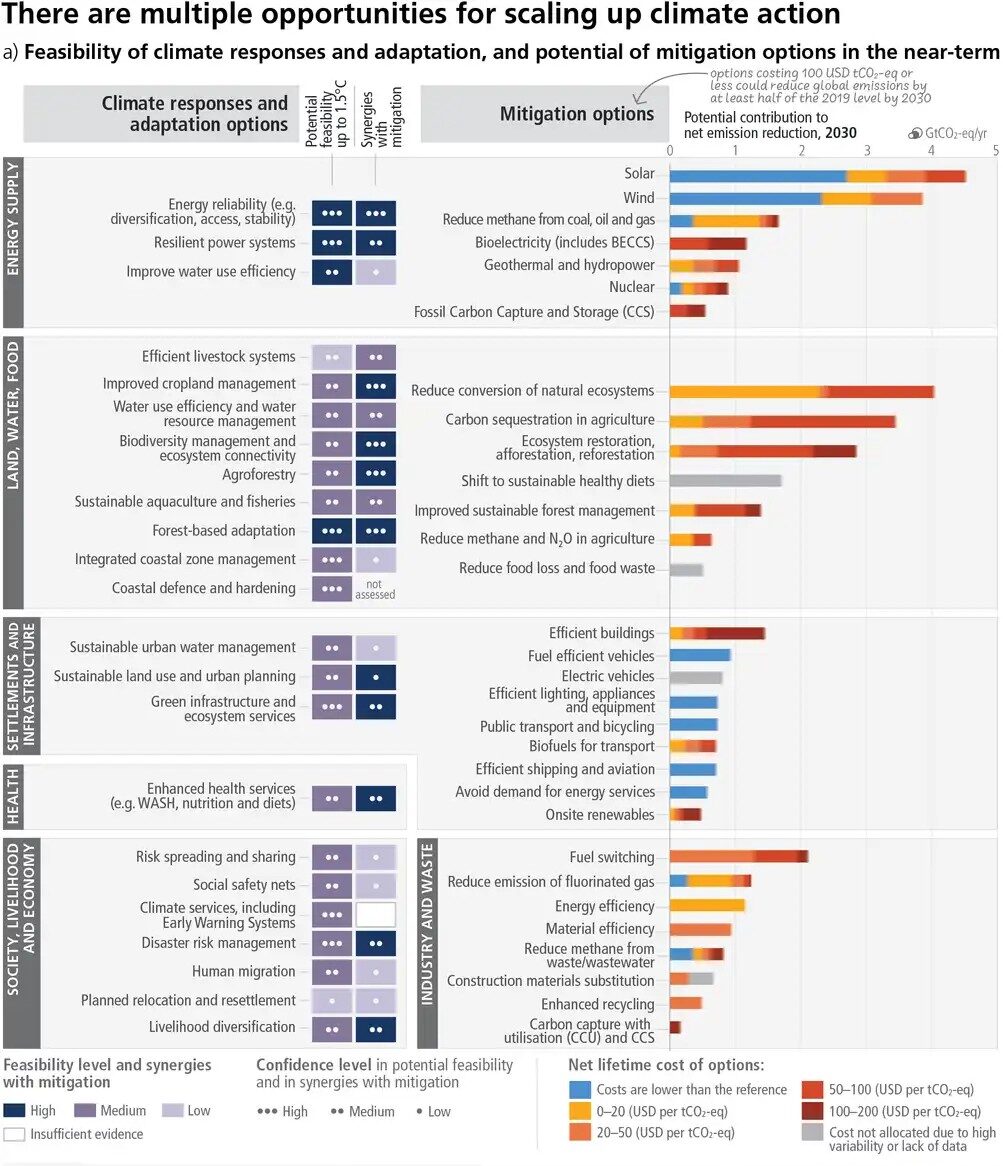 The report also acknowledges that emissions are hard to cut from some industrial processes and sectors. Aviation, shipping, and agriculture are the most challenging sectors. 
In such a case, their emissions have to be counterbalanced by employing carbon removal technologies. These include direct air capture (capturing emissions directly from the air and storing it underground), sucking in CO2 from industrial plants and factories, and drawing in more carbon into the soil. 
The impacts of global warming also cause climate injustice. Vulnerable countries that have done least to cause climate change are experiencing the hardest effects. 
Nations at the UN climate conference in Egypt last year, COP27, agreed to create a compensation fund called "loss and damage", worth up to $580 billion annually by 2030. Rich nations who emit the most GHGs must pay poorer countries who suffer the most from climate disasters. 
But the parties had yet to know how to define what countries need compensation.
Fast-tracking Net Zero 
To top it all off, Guterres called on nations to fast-track their climate actions. Develop countries, in particular, must press the "fast-forward button" of their net zero pledges. They have to remove as much GHGs from the air as they emit. 
He stated for the first time that rich nations must hit their net zero goals as soon as 2040 as possible. That's a decade earlier than what most countries such as the U.S. and the UK promise to achieve – by 2050.
Other large emitters, namely China and India, even have much later targets, 2060 and 2070, respectively. 
This latest summary report rounds out the IPCC's AR6 which comprises 4 installations. The UN group carries out a full assessment cycle every 6 or 7 years. This synthesis report will be presented during the next UN climate conference, COP28, in Dubai at the end of 2023.