In a significant boost to the carbon capture industry, Capture6, a California-based startup, has secured a grant exceeding $8 million from the California Energy Commission. 
This funding, the largest in the current round of the Commercialization Industrial Decarbonization (CID) Program, will propel the company's groundbreaking Project Monarch at the Pure Water Antelope Valley (PWAV) Demonstration Facility.
Capture6 is a direct air capture (DAC) start-up specializing in climate resilience and industrial decarbonization. The company develops and commercializes highly scalable approaches to removing carbon dioxide.
Capture6's Project Monarch will demonstrate the use of saltwater separation technology to remove CO2.
Producing Freshwater By Removing Carbon
Capture6 is revolutionizing the carbon capture sector with its unique, scalable technology. The startup's approach integrates DAC with water treatment technologies and thus, creating a circular economy solution. 
This innovative process uses brine, a byproduct of water treatment facilities, to produce a solvent that captures atmospheric carbon dioxide. The result? A dual benefit of additional freshwater and reduced CO2 emissions, is a win-win for communities and the environment.
Water security is a global concern, with demand projected to surge by 55% by 2050. 
Traditional water sources, often high in salt and minerals, require significant treatment before use. The startup's technology offers a solution to this escalating environmental crisis. 
By using salt water to create its carbon removal solvent, Capture6 can recover over 50% of freshwater from desalination waste brine. This process not only provides drinking and industrial water but also captures CO₂ and eliminates waste brine.
Capture6 Approach to Carbon Capture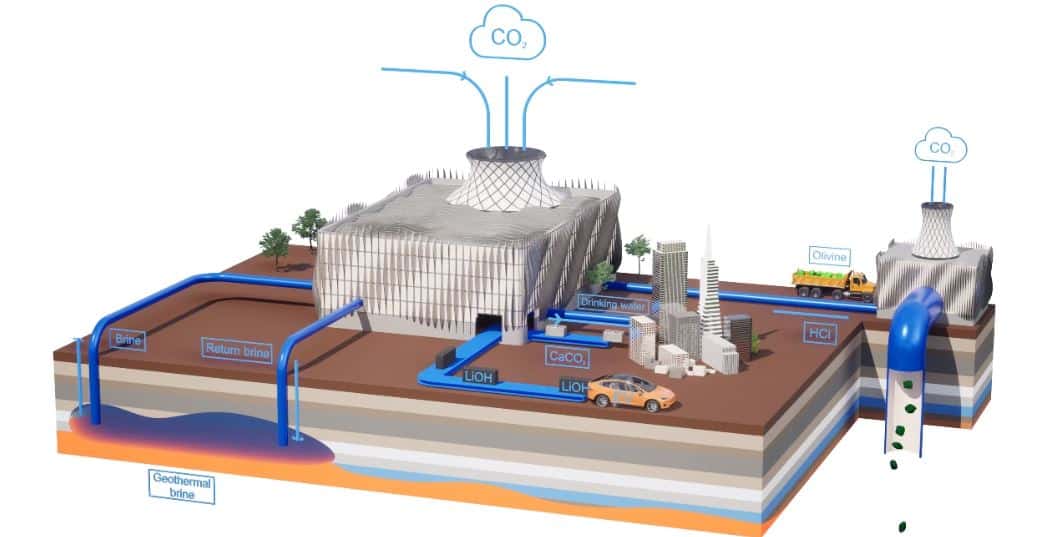 The grant application was a collaborative effort, led by Capture6, with PSE Healthy Energy, Lawrence Berkeley National Lab, and Stantec. 
The Palmdale Water District (PWD) will partner with Capture6 to develop the PWAV Demonstration Facility. This facility will showcase Capture6's cutting-edge technology and PWD's advanced water purification through a visitor learning center and guided tours.
Berkeley Lab will play a crucial role in the project, developing a comprehensive monitoring, reporting, and verification protocol. They will also execute a life cycle analysis for the project, while PSE Healthy Energy will lead air pollutant assessments.
Dr. Ethan Cohen-Cole, CEO and co-founder of Capture6, expressed his gratitude for the grant, stating, 
"It represents one of the largest state-funded DAC investments to date. It confirms our process is viable in decarbonizing industries while at the same time reducing emissions and increasing freshwater supplies."
Capture6's Unique CO2 Removal Facility
The facility, named Pure Water Antelope Valley Demonstration Facility, which includes Capture6's Project Monarch, will be the first fully integrated water management and CO₂ removal facility of its kind.
Project Monarch is a two-phase initiative with the ultimate goal of developing a large-scale commercial facility. The success of this project hinges on community support as well as positive outcomes from the demonstration facility.
Capture6's carbon capture process has the potential for global replication. The company is actively pursuing opportunities, particularly in New Zealand, Asia, the Middle East, Canada, and across the US. The goal is to deliver high-value environmental and financial outcomes, including pure water, affordable carbon removal, and emissions reductions.
Here's how the startup's DAC process works, explained in the video below.
The CID Program is a key part of the California Energy Commission's broader efforts to create a clean, modern, and thriving California. As the state's primary energy policy and planning agency, the Commission plays a pivotal role in supporting the transition to a clean energy economy and reducing greenhouse gas emissions.
In conclusion, Capture6's innovative technology and the recent grant from the California Energy Commission mark a significant stride in the fight against climate change. The company's unique approach to carbon capture and water treatment could be a game-changer in the global effort to reduce CO2 emissions and secure water supplies. Stay tuned for more updates on this exciting development.