Offsetting emissions is the main goal of carbon credits and The Walt Disney Company has been consistent in showing its pledge toward net zero emissions.
More and more companies had hopped on board the global trend of cutting carbon footprint. They're investing in environmental projects with the ultimate aim of reducing GHG emissions.
The Walt Disney Company has established itself as a major player in the voluntary carbon market. It plans to extend its carbon offset program to include indirect emissions.
With Disney's high internal carbon prices, it's paying more than average prices for its carbon offset projects. And by the end of this year, the firm commits to having a science-based reduction goal in Scope 3 emissions. This includes emissions generated by its products, service manufacturing, and delivery.
Net Zero GHG Emissions
Disney has been operating with the goal to reach net zero GHG emissions since 2009. The following chart is the company's 2019 Scope 1 and Scope 2 emissions.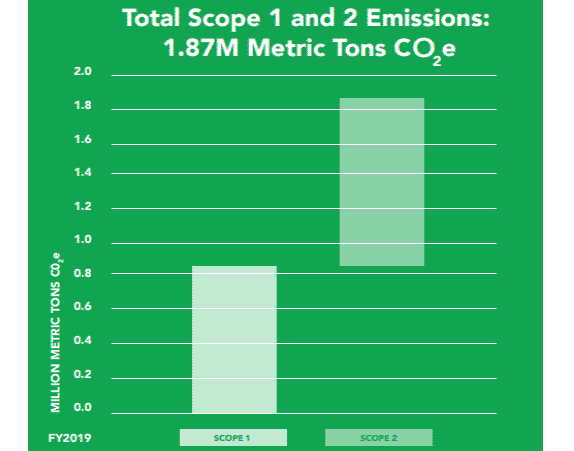 Disney addresses its carbon footprint through avoided emissions and emission reductions. These include investments in low carbon innovation and using zero-carbon energy to power its operations.
The company plans to offset its emissions by investing in high-quality carbon credits. It focuses on nature-based projects like reforestation and natural ecosystem restoration.
In a nutshell, Disney will hit its net zero emissions goal by focusing on these four key areas:
Net zero emissions for direct operations by 2030
100% zero-carbon electricity by 2030
Innovation for low carbon fuels
Invest in natural climate solutions
Disney's strategies to avoid and reduce its Scope 1 and 2 emissions are:
Implementing sustainability requirements for the design and construction of new assets

Investing in projects and renovations that drive greater efficiency in existing operations

Catalyzing innovation in low-carbon fuels to help speed up the transition to sustainable energy

Buying carbon-free electricity through on-site generation, partnerships with local utilities, and other mechanisms
100% Zero-Carbon Electricity for All Direct Operations by 2030
To achieve this climate goal, Disney will:
Invest in on-site renewable electricity generation
Maximize utilities and electricity partnerships
Supplement renewable energy use with physical and virtual Power Purchase Agreements (PPAs)
Buy unbundled renewable energy credits or RECs if the above tactics are not possible
So far, the firm has 292 acres of solar panels at Walt Disney World Resort.
Low Carbon Fuel Innovation
Disney Cruise Line operations take the most of the firm's fuel use. And here are what the firm had achieved so far under this goal:
Plug-in power used by its cruise ship while docked, reducing fuel consumption
Battery and solar-powered generators piloted by Disney tv and film productions
EV chargers installed for guest and staff parking in Walt Disney World, Disneyland Resort, & Disneyland Paris
Geothermal used to displace natural gas
New cruise ships will be powered by LNG with lower emissions than traditional fuel
To expand on those efforts and drive fuel innovation, Disney plans to do two major things. First, it will dedicate funding to innovate low carbon fuel pilots and infrastructure. Second, it will join industry collaborations like the Cruise Lines International Association.
Invest in Natural Climate Solutions (NCS) as Needed
Disney's NCS investments are from its internal fee on carbon emissions. This fee applies to all its business units based on their emissions profile. This is to incentivize reductions at the source and reach Disney's net zero emissions goal.
The company is selective in choosing the projects it supports. It also works with experienced partners to ensure the quality of the projects.
Its best practices in this area include:
Detailed reviews of project design
Management
Overall impacts
Ongoing follow-up on project progress
Other Net Zero Emissions Initiatives of Disney
Disney invested a lot of effort toward its direct emissions reduction goal. Still, the company also has other measures as part of its environmental goals.
Zero waste to landfill sites
To date, Disney had 80K+ tons of operational waste diverted from landfills in 2021. It will continue this initiative by:
Reducing food waste
Maximizing food waste diversion (meeting at least 50% of diversion)
Committing to EPA's Food Loss and Waste 2030 Challenge
Use sustainable paper, wood, and palm oil
In its most recent environmental goal whitepaper, the company listed these aims for 2030:
All Paper & wood used as primary packaging and product material will be from 100% recycled content or be from a verified or certified sustainable source.
All palm oil and palm kernel oil used as an ingredient in Disney-branded products will be from certified sustainable sources by 2030.
Use sustainable textiles
To have 100% branded product textiles that contain recycled or sustainably sourced content by 2030.
Reduce plastics footprint across the business
So far, Disney's efforts in reducing its plastic footprint gave it significant results. It has eliminated over 200 million plastic straws and stirrers and removed polystyrene cups.
The firm was also able to reduce plastics in over 15,000 of its guest rooms by 80%. This was done by replacing all disposable toiletries with bulk amenities. It also reduced plastic merchandise bags.
By 2030, its goal is for all plastic in Disney branded products and packaging to contain 30% or higher recycled content.
Moreover, Disney Cruise Lines committed to reducing 80% of single-use, guest-facing items on board by end of 2022.
Finally, Disney is also committed to pursuing sustainable manufacturing facilities. The aim is to minimize the carbon footprint of facilities where Disney-branded products are made.
And so by 2030, its goal is for all facilities to partake in the Higg index or maintain a sustainable manufacturing certification.
With all its initiatives and goals, Disney will contribute big to the world's race to net zero emissions.