Global additions of renewable power capacity will increase by a third this year, says the International Energy Agency (IEA).
In the IEA's 2023 Renewable Energy Market Update report, the agency said new global renewable capacity will jump by 107 gigawatts (GW) to over 440 GW. This is the largest increase ever reported.
Yet, the manufacturing capacity for all solar PV productions will further rise to more than double to 1,000 GW by 2024, with China taking the lead.
Leaders of the New Global Energy Economy
The need to decarbonize the global economy calls for a new energy system that does away with fossil fuels. 
Per IEA Executive Director Fatih Birol, solar and wind power dominate the rapid growth of this new global energy economy. She further noted that:
"This year, the world is set to add a record-breaking amount of renewables to electricity systems – more than the total power capacity of Germany and Spain combined."
Three major things drive strong demand for solar PV and wind power: growing policy concerns, higher fossil fuel prices and energy security issues.
In 2024, global renewable electricity capacity is estimated to rise to 4,500 GW. That's about the same as the combined power output of China and the U.S.
Solar PVs will account for 2/3 of the increase in renewable energy (RE) capacity this year and they will keep growing in 2024. The chart shows the IEA's estimates for 2023 and 2024.
Net RE Capacity Additions by Technology, 2017-2024
This growth is due to continued expansion of large-scale solar PV applications along with smaller distributed systems. The smaller distributed PVs such as rooftop PVs account for half of this year's total solar PV deployment. Higher electricity costs are pushing the growth of the smaller solar PV applications, the report noted. 
Meanwhile, onshore wind capacity additions are also on track to rise by 70% this year to 107 GW, another record high, after 2 years of decline as seen in the chart above. The major reason for this rebound is the completion of projects previously delayed due to COVID-19 pandemic and supply chain issues.
RE: At the Heart of Europe's Energy Plan
In Europe, renewables are at the heart of the bloc's response to the energy crisis caused by the Russia-Ukraine war. Policy actions in many EU nations will bring a 40% uptick in the region's new renewable capacity forecasts. 
The newly installed renewables in 2021-2023 will bring a whopping energy savings to EU consumers of about 100 billion Euros. 
European Union Capacity Additions in 2023-2024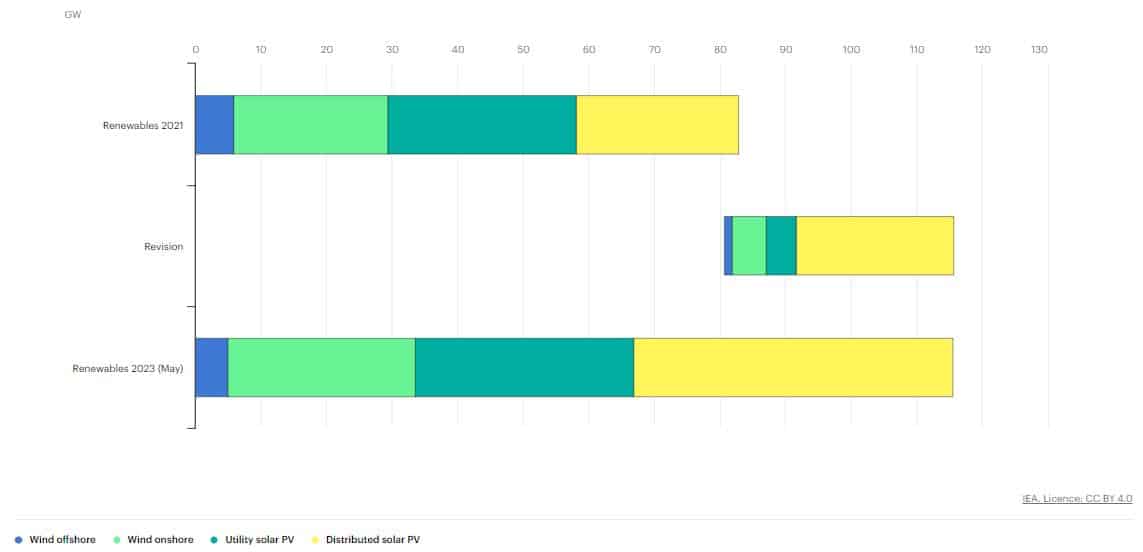 Also, the bloc has made more policy and regulatory changes to ease RE permitting in the last 18 months than over the whole past decade. 
New policy actions will also help drive substantial RE increases in India and the US over the next 2 years. 
The Undisputed Leader in RE Deployment
The IEA further said that China will remain as the undisputed leader in global RE deployment. Its new renewable capacity will grow this year and the next.
In 2022, the 3rd-largest polluter took the share of about 50% of all new renewable power capacity globally. In 2024, China's share will hit a record 55% of global RE capacity deployment. 
Meanwhile, there's also a growing supply diversification in other parts of the world, particularly the US, Europe, and India.
Meeting Net Zero Emissions Scenario
Based on the upward trends, the report claims that the world will have enough solar PVs in 2030 to meet the annual demand projected in the IEA's Net Zero Emissions by 2050 Scenario.
In contrast, wind manufacturing capacity will expand more slowly and may struggle to keep up with demand growth through 2030. 
However, despite those record-breaking increases, renewable energy auctions were under-subscribed also by a record 16% last year. ⅙ of RE auction volume was unallocated due to policy uncertainties and volatile prices as shown below.
Governments have to address this challenge to achieve stronger growth of the sector. More investment in upgrading grids to accommodate higher volumes of RE in power systems is also necessary. In the authors' words, that means:
"Policies need to adapt to changing market conditions, and we need to upgrade and expand power grids to ensure we can take full advantage of solar and wind's huge potential."
More growth in 2024 largely relies on how governments' policy support will turn out, particularly on permitting and auction design. Several countries will see their annual share of solar PV and wind power reach over 40% by 2024, which calls for effective grid management.