Hydrogen aviation startup ZeroAvia secured another US$30 million in funding from new investors, NEOM, AENU, and Barclays, to scale sustainable aviation.
IAG also added to its prior investment that bringing the capital increase of the Series B round to US$68 million.
By increasing its investment, IAG brings along with it its arsenal of European airlines. These include Aer Lingus, British Airways, and Iberia.
Other early investors are Amazon Climate Pledge Fund, AP Ventures, Breakthrough Energy Ventures, Horizons Ventures, Summa Equity and Shell Ventures.
ZeroAvia founder and CEO Val Miftakhov remarked about the investors:
Each of these star investors brings a unique perspective and strength to ZeroAvia's wider team… Our new investors are each looking at our journey through a different lens, but all energized by our mission to enable zero-emission flight using hydrogen-electric engines. This is a great recognition of ZeroAvia's leadership in the space, fueled by real, tangible achievements.
With three major airlines – United Airlines, Alaska Airlines, and IAG – as strategic investors, the new investment will advance ZeroAvia's hydrogen-electric powertrain development program.
The aviation startup aims to power 200+ seat planes with hydrogen zero-emission engines by 2040, from 40-80 seats by 2026.
How safer is hydrogen than conventional jet fuels?
Airships use lighter-than-air gas like hydrogen to float and they've been around for ~150 years. But the 1937 Hindenburg accident almost killed the airship industry.
Today, they're making a big comeback as the aviation industry, and the entire world, race toward net zero emissions.
Airplanes emit 900+ million tonnes of CO2 which accounts for 2% of the global CO2 emissions. The aviation sector is also the fastest growing source of GHG emissions.
In comparison, modern airships use only 10% of the emissions of jet planes though they're not yet available on a commercial scale.
But ZeroAvia is working to make it possible via its hydrogen-electric, zero-emission aviation solution.
Compared to air, hydrogen is 14x lighter and it dissipates much faster, too. Plus, hydrogen is 2x to 3x less flammable than gasoline when in the air. That's because it needs 18x more oxygen concentration to ignite than gasoline.
To top it all, hydrogen production, storage, transport, and use has been safe for over 50 years.
ZeroAvia's Hydrogen-Electric Aviation Solution: HARE
Banking on the advantages of using hydrogen over liquid gas fuel, ZeroAvia takes its climate solution much further. That's by using carbon neutral fuel cells.
The $30 million investment will go towards its 2-5MW hydrogen-electric powertrain development program for planes. These bigger planes will use liquid hydrogen fuel as opposed to gaseous for smaller planes.
ZeroAvia's hydrogen-electric powertrains offer a long range, higher energy density, lower fuel and maintenance costs. It's the first practical hydrogen-electric, zero-emission aviation solution to replace traditional engines on existing fixed wing aircraft.
Here's why ZeroAvia's hydrogen-electric is a great option for long-term transition to clean aviation: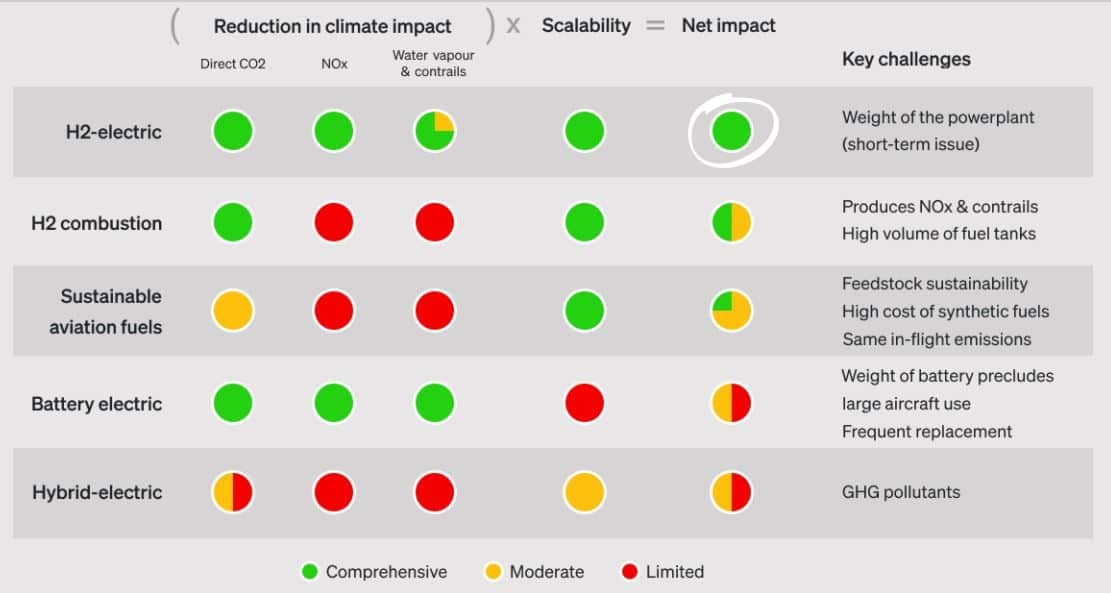 This latest funding will also help ZeroAvia deploy building infrastructure at airport sites. It will support live demonstrations of its Hydrogen Airport Refueling Ecosystem (HARE). And that's in preparation for routes carrying passengers and cargo in the next years.
The startup is ground testing its ZA600 powertrain at its R&D facility at Cotswold Airport in the UK. The testing is part of "Project HyFlyer II," the name of its program to demonstrate hydrogen-electric flight in a Dornier 228 plane.
The firm also recently welcomed a second test bed to its US facility at Hollister, CA.
This is how ZeroAvia's hydrogen-electric powertrain tech works:
Zero-emission aviation starts with green hydrogen. Green hydrogen is produced through electrolysis and stored at or near airports. This will reduce transportation costs that drive up the price of hydrogen before. Locally available renewable energy then powers the electrolyzers.
Green hydrogen powers electric propulsion via the fuel cells. Renewable hydrogen stored in tanks converts to electricity in flight using a fuel cell, which then powers the electric motors.
Both the old and new investors are betting on ZeroAvia's novel hydrogen fuel cell aviation solution to help bring the sector to net zero emissions.
Here's a quick overview of each of the new investors.
IAG: International Airlines Group is one of the world's largest airline groups with major airlines in Spain, the UK, and Ireland. They include Aer Lingus, British Airways, Iberia, Vueling and LEVEL. It's the first airline group to commit to achieving net zero emissions by 2050 and began partnering with ZeroAvia in 2020.
Barclays Sustainable Impact Capital. Barclays will invest £175m of its own capital in fast-growing, innovative, environmentally-focused companies like ZeroAvia. Its investments target the goals and timelines of the Paris Agreement.
NEOM. It's a region in northwest Saudi Arabia on the Red Sea being built from the ground up as a living laboratory. It's leveraging green hydrogen as a key power source in delivering the world's first zero-carbon city. It can produce green hydrogen for power at scale.
AENU. This is an evergreen impact fund that invests multi-stage in climate-tech and social impact companies in Europe & US. AENU drives systemic transformation in venture capital towards impact, accessibility, and stakeholder-alignment.