The Amazon Reforestation Fund, formed by Brazilian startup Mombak, received two separate investments worth $35 million in total from Rockefeller Foundation and Canada Pension Plan Investment Board, reaching its $100mln target funding.
Mombak aims to be the world's biggest carbon removal company generating high-quality carbon credits through reforestation of the Amazon. 
The startup's reforestation project got support from high-profile investors including Byers Capital, Union Square Ventures, and Bain Capital Partnership Strategies. These large partners are recently joined by Rockefeller Foundation and Canada's largest pension fund, the CPP Investments. 
Generating High-Quality Carbon Removal Credits
Mombak's reforestation project will plant native Brazilian tree species on degraded land, ensuring trees aren't cut down for timber production. 
The project's activities like selecting land and plant species will use innovative technology and drones to measure carbon baselines. It also utilizes satellite imagery and bioacoustic sensors to assess biodiversity and optimize results.
The Amazon Reforestation Fund was launched in December last year aimed at raising $100 million financing to support reforestation in the region. The fund will enable Mombak to not just remove carbon dioxide but also help improve soil quality and biodiversity.
Carbon removal through nature is one of the sought-after solutions that help mitigate climate change. Forests have been the long-standing ally of the planet in avoiding too much heat by capturing carbon.  
The startup's first project in Northern Brazil will plant 3 million trees with over 100 native species. They include 200 hundred thousand seedlings of endangered species, with over 1 million seedlings to be planted by September. 
Mombak will also start multiple projects of this kind before this year ends. The landmark carbon removal project will create jobs in the local community.
Unlike existing forests, reforesting Brazil's pastureland to rebuild the Amazon forest produces high-quality carbon credits. It does so through additional carbon removed from the atmosphere by the new forests created. 
The project's permanent carbon sequestration will create verified carbon removal credits that are tradable in carbon markets. They can be sold through spot trading as well as offtake agreements with end-buyers. 
The additional and permanent carbon removals created by the project attracted large investors. Rockefeller Foundation and Canada's CPP Investments are just the two recent companies onboard.
Closing the $700B Annual Financing Gap
Canada's largest pension fund will invest up to $30 million in Mombak's reforestation fund and another half million in the carbon removal startup itself. Speaking for the CPP Investments, the pension fund's global head of sustainable energies noted that:
"We expect that the value of high-quality, verifiable, nature-based carbon removal credits such as the ones produced through The Amazon Reforestation Fund will continue to rise."
CPP, one of the largest pools of investment capital in the world, supports efforts that strengthen carbon credit markets. Investing in the potential of carbon credits is part of CPP's pathway to net zero emissions.
CPP Investments commits its portfolio and operations to achieve net zero emissions across all scopes by 2050.
The CPP's $30 million investment, plus a smaller outlay from the Rockefeller Foundation, brings Mombak's Reforestation Fund to its $100 million goal, according to the company's CEO and co-founder Peter Fernandez.
The Rockefeller Foundation is making big bets in promoting the well-being of humanity and making opportunity universal and sustainable. Its $5 million investment in Mombak's reforestation project helps reinforce its integrity where trust is the biggest issue, Fernandez said. 
Acknowledging the importance of its small yet impactful investment, senior VP at Rockefeller Foundation Maria Kozloski remarked that nature-based solutions (NbS) play a crucial role in curbing carbon emissions but it remains short of funding. She further said that:
"[Nbs] remain grossly underfunded, with an estimated $700 billion financing gap per year… The Rockefeller Foundation is proud to help close this gap by investing in Mombak's innovative model that seeks to remove carbon by reforesting the Amazon."
Part of its efforts to fill in gaps in investable NbS projects, the Foundation provided a grant to Nature Conservancy. The philanthropic company also co-launched 3 other innovative initiatives namely the African Carbon Markets Initiative (ACMI), the Coal to Clean Credit Initiative (CCCI), and the Energy Transition Accelerator.
Raising the Bar for Carbon Removals
Apart from drawing in major investing companies, the carbon removal company is also working closely with leading non-government organizations. Their goal is to raise the bar in the carbon removal credit industry. 
A critical part of achieving that aim is ensuring that their reforestation projects meet the most stringent standards and requirements. As such, the startup focuses on selling carbon removal credits to high-end buyers without questioning the quality of carbon removal. These buyers use the credits to offset their own carbon emissions. 
The carbon removal industry, also known as carbon dioxide removal (CDR), is booming recently. According to CDR.fyi, CDR purchases have increased 437% in the first half of 2023, a defining moment for CDR. Purchases climbed to about 3.4 million tonnes, showing robust growth of 5.6x versus the full-year 2022.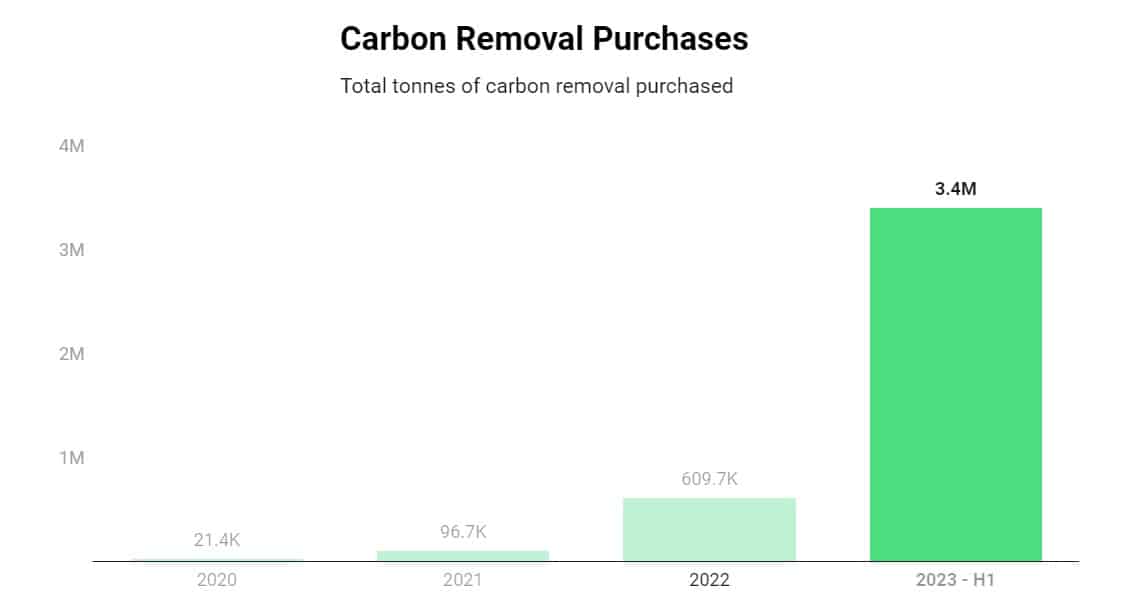 Leveraging this growth, Mombak has been pre-selling carbon removal credits at over $50 each, which is a premium in voluntary carbon markets.
The carbon removal company will continue to raise more funds for its Amazon reforestation projects. The startup expects to deploy $1 billion in the next 3 to 5 years. 
This recent funding not only propels Mombak towards its goal of becoming a prominent carbon removal leader but also highlights the critical role of nature-based solutions. It also underscores the need for innovative models to address the huge financing gap in carbon removal efforts.