Partanna Global has built the world's first climate-resilient, carbon-negative 'Home for the World' in the Bahamas, marking a new breakthrough in sustainable housing.
Partanna is a sustainable building materials startup founded by NBA Lakers legend and actor Rick Fox in 2021, together with Sam Marshall. 
The groundbreaking 1,250 square-foot house in the Bahamas actively eliminates and prevents 182.6 metric tons of CO2. That amount is equivalent to the annual carbon intake of 5,200 mature trees, contrasting sharply with the 70.2 tons of CO2 emitted by a typical concrete-built home during production.
Partanna's 'Home for the World' 
The built environment is responsible for around 40% of the world's annual greenhouse gas emissions significantly contributing to climate change. And concrete happens to be the major choice of today's modern homes. 
The main culprit is cement, a main ingredient in concrete mix that's responsible for over 8% of CO2 emissions globally. Thus, various initiatives have been introduced to make alternative sustainable building materials to traditional concrete. 
Apart from Partanna, other startups are also working to suck in carbon from the air and lock it in concrete. For example, a California-based company C-Crete is making a cement-free, carbon-negative concrete.
But what makes Partanna's technology unique is the fact that they're using slag and brine instead of cement. They are waste materials the company takes from energy-intensive steel and desalination facilities. 
Moreover, the company said that their concrete mix cures at ambient temperatures, further lowering energy use. That makes Partanna's building material production capable of reducing both energy costs and carbon emissions. 
Plus, the material's curing process called 'carbonation' further removes carbon from the air just like a tree does. When standing in a house or any building, the material continues to draw in carbon from the air. 
The company said that a 1,250 sq. ft. home can remove 130 Mt of CO2 and avoid another 54 Mt. Therefore, the total avoided and removed CO2 per house stands at around 184 Mt. 
Partanna's standard concrete masonry unit, CMU, block is 25% stronger than traditional CMU.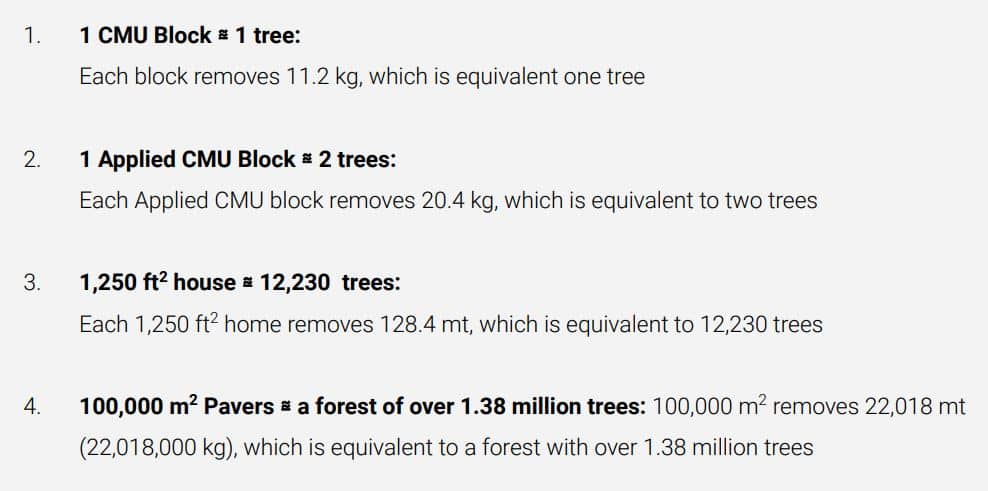 Most remarkably, their binder ingredient makes the concrete even stronger when exposed to seawater – exactly what houses in the low-lying islands in the Bahamas need to weather the storms and sea level rise. 
The carbon negative 'Home for the World' in Nassau is designed and built to do just that. 
Changing the Way the World Builds
Partanna's prototype home is the first of 1,000 planned homes announced in partnership with the Bahamian government last year. Their deal came after hurricane Dorian devastated Fox's home country in 2020, severely impacting 29,500 people. 
After their agreement's announcement, Richard Branson's Caribbean Climate-Smart Accelerator (CCSA) also partnered with Partanna in February this year to develop the world's first carbon negative housing community. 
CCSA's goal is to build resilient nations, cities, and industries across the Caribbean, and create the world's first climate-smart zone. 
The billionaire's non-profit finds Partanna's innovation a sustainable housing solution in a country at the frontline of the climate crisis. The CCSA will help the Bahamian startup realize its mission by identifying public and private collaborations in the region.
Remarking on their first build, Fox noted that the need to disentangle development from pollution has never been more urgent. He also said that:
"The world is forecast to build an area equivalent to the size of The Bahamas every three years… Our 'Home for the World' is the answer to this challenge, and The Bahamas is the symbolic birthplace for our movement to change the way the world builds – for good."
Resilience in the Face of Climate Change
Prime Minister and Minister of Finance of The Bahamas, Hon. Philip Davis praised Partanna's innovative approach to the climate crisis. He highlighted the essential role of climate-resilient solutions for the disaster-stricken nation and in fighting global warming. 
Nobody lives in their prototype carbon-negative home yet, but the next houses will be livable for first-time homeowners. Their initiative aims to build 29 more homes by 2024. Details on this development will be early next year.
Bringing a sustainable housing solution is a part of Partanna Global's mission. But apart from that, the company is also complying with the global standards for construction material by securing prestigious certifications.
Not to mention that its carbon-negative concrete boats excellent strength, exceeding its traditional peers. If their pilot construction in the Bahamas turns out a success, they're planning to expand production into the United States.
Their goal is to make their climate-friendly concrete a mainstream material that can address both the global housing demand and carbon emission reductions goals. They're continuing the hunt for strategic partners to revolutionize large-scale developments worldwide. 
The world's largest carbon crediting program, Verra, approved Partanna and its carbon removal to be listed on its VCS registry. 
Partanna's carbon reduction or avoidance are the first verified carbon-absorbing building materials to generate carbon credits. Each credit represents a metric ton of avoided or removed CO2. 
Given the escalating impact of extreme weather events and rising sea levels, Partanna's unique construction material, fortified by brine, offers a sturdy and sustainable alternative, particularly beneficial for regions, like the Caribbean, vulnerable to climate-related hazards.