Planetary Technologies has published a measurement, reporting, and verification (MRV) protocol for ocean-based carbon removals, hoping it provides a major boost to the market of marine carbon removals.
Planetary is also inviting experts to review its MRV protocol, available at its GitHub account, and provide their input. The tech firm welcomes comments until April 15, 2023. 
MRV Explained
Measurement, Reporting, and Verification (MRV) refers to the process to measure the number of carbon emissions reduced by a certain mitigation activity over a period of time and report the results to an accredited third party. This particularly includes reducing emissions from deforestation and forest degradation.
The third party then verifies the reported findings so they can be certified and the corresponding carbon credits can be issued.   
One credit is equivalent to one ton of reduced emissions expressed in tons of CO2 equivalent (tCO2eq). The credits are from the results the World Bank pays for through specific results-based climate financing arrangements such as the Emissions Reduction Payment Agreements (ERPAs).
Carbon credits are also basic units traded in the carbon markets used by countries to meet their Nationally Determined Contributions (NDCs) under the Paris Agreement. Companies and individuals are also using them to offset their own footprint or simply support environmental projects.
MRV serves as the key to showing progress on climate goals and attracting more investments into the sector

. 
At the very start, the carbon reductions project should have baseline data against which performance is measured periodically. The assumptions upon which baselines are established and accounting methods adopted to measure the reductions vary by sector and scale.
At the end, standard setters set the requirements that those baselines and mitigation activities must meet. This is to ensure that the project follows the highest accounting standards for reliable results. 
In gist, MRV seeks to prove that activity actually reduced or removed harmful GHG emissions. The goal is to ensure that mitigation actions can be converted into credits with monetary value. 
Planetary Ocean CDR MRV Protocol
Planetary's MRV is the world's first Ocean Carbon Dioxide Removal (CDR) protocol designed to ensure accuracy and transparency of Ocean Alkalinity Enhancement (OAE) projects to deliver carbon removals. 
Since the summer of 2022, the firm has been testing its technology in the UK, Canada and the US. It says it can remove up to 1 million tonnes of CO2 by 2028 while restoring coastal and marine ecosystems.
Co-founder and CEO of Planetary, Mike Kelland, said:
"To address climate change, we need to be ambitious with our approach. For the safety of our planet and people, we need to remove billions of tonnes of carbon dioxide from the air. At the same time, we want to continue safely so we will continue at low levels and grow as we increase our confidence in the safety and efficacy of our approach."
Planetary's open-source protocol provides guidelines for developing ocean CDR projects, including how to calculate carbon removal and estimate lifetime storage. It also includes a standardized methodology used to assess the CDR performance, increasing trust and thus, climate finance. 
Just last month, a team of MIT researchers unveiled a new way of capturing CO2 from seawater, not air. Their novel tech uses less energy and cheaper cost than existing direct air capture methods.
What makes Planetary MRV unique is its conservative holdback that allows carbon removal credits sold as the protocol evolves. And to further improve its protocol, the company stated on its website that it's working on including these key issues:      
Proper representation of CDR accomplished through the capture of biological CO2 entrained in wastewater

An iterative approach to refining the holdback factor

Alkalinity loss due to particle dissolution below the (seasonally varying) mixed layer

Alkalinity loss due to subduction of alkalized water from the (seasonally varying) mixed layer

Alkalinity loss by reaction with acids other than carbonic in the wastewater 

Alkalinity loss due to particle ingestion at various levels in the ocean food web
Boosting Ocean-based CDR Projects
The company's goal is to ramp up the development and adoption of ocean-based CDR projects with its OAE tech process.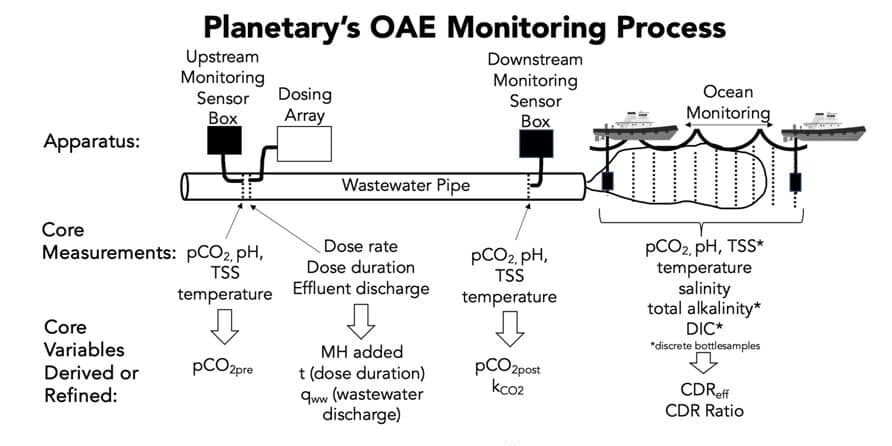 Planetary's method adds an alkaline substance to seawater, lowering its acidity in the surrounding marine environment. This then converts the dissolved CO2 into a mineral salt, which will remain in that state for 100,000 years.
As the Planetary's tech reduces the CO2 in the oceans, it can suck in more atmospheric CO2, as part of the natural carbon concentration balancing process.
Knowing the exact volume of this process is where the MRV protocol becomes crucial to ensuring that it works. As such, it also makes sure that the issued carbon removal credits are real and verified. 
Planetary's new MRV for ocean carbon removal has been reviewed by Shopify, one of its supporters in testing the tech. The giant e-commerce's sustainability head said that OAE can remove and capture gigatonnes of CO2 each year at a low cost. She added:
"Planetary is driving the OAE pathway forward, and their decision to open source their MRV framework and request expert feedback further validates the respect and trust we have in their organization."
The novel MRV protocol will instill Shopify and other carbon credit buyers with the confidence that ocean-based CDR projects are removing emissions as promised.