The Voluntary Carbon Market Integrity Initiative (VCMI) launched its Claims Code of Practice which aims to give companies a rulebook to follow for making credible climate claims using carbon credits on their path to net zero. 
VCMI first published the draft of the Claims Code in June last year. Since then, it went through beta testing by companies and rigorous consultations, and multi-stakeholder collaboration. 
A wide range of nonprofits, international organizations, companies, governments, and industry groups supported VCMI. Climate experts worldwide find the Code a welcome step forward for the VCM after it receives massive criticism. 
VCMI's Claims Code promotes the use of the "contribution claims" model in financing climate actions through carbon credits. This approach builds market integrity and confidence in VCM as asserted by Rachel Kyte, Co-Chair of VCMI's Steering Committee saying:
"Voluntary carbon markets bring considerable benefits as part of companies' net-zero transition and as a means of financing climate transition worldwide… The Claims Code will give greater confidence and develop trust in those who use it. If you build integrity, trust will follow, and trust is the foundation of a high value, high impact market."
The Code's 3 Tiers of Corporate Claims
From the provisional bronze, silver, and gold, the final claim tiers or levels are now Silver, Gold, and Platinum. Each of them acknowledges investment in emission reductions and removals beyond corporate action to reach their net zero goals. 
Not all that glitters is gold because Platinum, not Gold, is the best available level for companies to claim. 
The chart shows the respective thresholds for each tier, representing the number of carbon credits retired (carbon emission reductions claimed). This is proportional to the remaining emissions in the year when a company makes a claim. Remaining emissions are emissions that remain in a given year as a company progresses towards its near and long-term targets.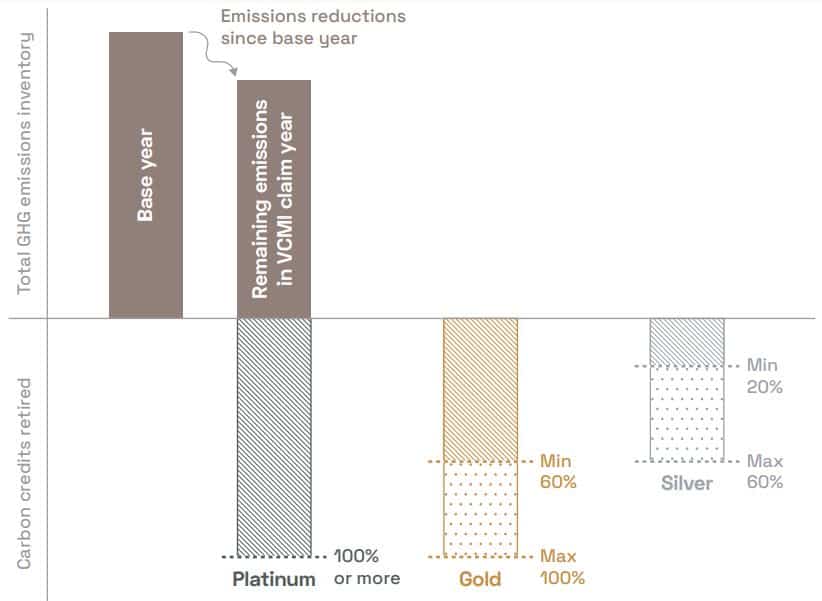 VMCI will provide further guidance on this, particularly on the Measurement, Reporting, and Assurance (MRA) framework, additional claim tiers and claim names, in November 2023.
Making a VCMI Claim
To make a VCMI Claim, a company should go through these four steps:
Comply with VCMI's Foundational Criteria

Choose which VCMI Claim to make from the 3 tiers

Buy carbon credits that meet quality thresholds – ICVCM's Core Carbon Principles (CCP)

Disclose information and get 3rd-party assurance following the VCMI MRA Framework
In finalizing the Claims Code, the VCMI has been working with other major initiatives that drive corporate climate action. These include the Greenhouse Gas Protocol, the Integrity Council for the Voluntary Carbon Markets (ICVCM), Science Based Targets Initiative (SBTi), and Carbon Disclosure Project (CDP). 
A Code for High-Integrity Carbon Credit Market
When used with integrity, VCMs can accelerate climate mitigation and contribute significantly to the Paris Agreement goals and UN SDGs.
Thousands of companies are investing in the VCM to tackle their carbon emissions through high-quality carbon credits. Thus, it's critical that the market has clear and transparent guidance on how to make voluntary use of carbon credits as part of their climate goals. 
VCMI Claims Code provides that guidance and more to prevent abusive use of carbon credits, e.g. greenwashing. It will bring integrity to the VCM and make it a powerful tool to get the world to net zero.
Allister Furey, CEO and co-founder of Sylvera commented on the launch of the Claims Code:
"The VCMI's guidance is a solid step forward for resolving confusion and uncertainty around what claims companies can make about their climate action, and for overall climate action transparency with the inclusion of comprehensive requirements to disclose credit use." 
The publication of this code of practice is indeed crucial in helping companies channel climate finance to credible climate action. But others also said that much more still needs to be done and carbon credits are not a silver bullet. There are other ways to invest in climate action.
Yet, the Code is a good starting point for entities looking to voluntarily use carbon credits toward their climate goals. By using it, companies can demonstrate their climate leadership, address reputation risks, and be ready to position themselves in a low-carbon transition.  
Ultimately, when paired with ICVCM's Core Carbon Principles that guide the supply side of the market, VCMI's Claims Code of Practice brings "end-to-end" integrity that allows for critical market development.