World's largest mining company, BHP Group, revealed that its carbon emissions will grow in the short term and needed rapid technological solutions, as well as carbon credits to achieve its 2050 net zero goal.  
The Australia-based mining giant said that it's on track to reach its 2030 emissions reduction target. But achieving its 2050 net zero goal would be very challenging. 
It aims to achieve a 30% reduction in 2020 levels in operational or Scope 1 and 2 emissions by 2030. This goal doesn't cover Scope 3 emissions, however, which include its customers' like the steelmakers' emissions.
BHP's $4 Billion 2030 Climate Targets
Its 2030 decarbonization goal requires $4 billion, according to Patrick Collins, BHP's head of decision evaluation, transformation portfolio and performance. 
Majority of the $4 bln investment will be for the most diesel-intensive assets, electricity, and gas emissions. 75% of that funds is for replacing diesel use in haul trucks, in particular. About 50% of the company's pollution comes from diesel. 
The company also allotted a small portion of that $4 bln to methane, which accounts for over 14% of its operational GHG emissions. 
BHP's Western Australian iron ore unit will receive most of the funds, and by its Escondida copper mine in Chile.
This decarbonization plan will allow the mining company to reduce its carbon emissions until the end of this decade. But it's also crucial that BHP becomes ready for rapid technological advances to ramp up its reductions in the next decades towards 2050. 
Apart from carbon reduction technologies advancing quickly, the largest miner also needs to collaborate with its vendors and the industry. This is crucial in addressing Scope 3 or value chain emissions. 
BHP's path to net zero will be "non-linear" or bumpy, the company admits. They expect a near-term rise in carbon footprint from production growth from current levels. The mining giant's carbon emissions will rise before falling again by the end of 2030. 
BHP Carbon Emissions for 5 Years (2017-2022)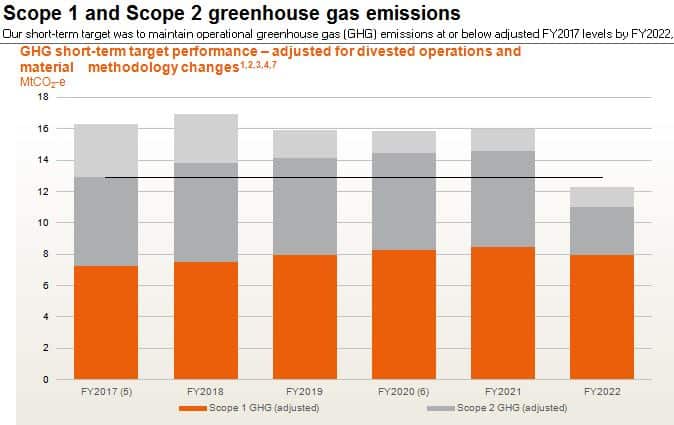 As shown in the chart above, BHP's operational carbon emissions were 11 million tonnes of CO2 equivalent (CO2e). That's a big decrease, 26%, from previous year level (2021 at almost 15 million tonnes). 
That achievement was largely due to renewable electricity used by the mining company at its different sites. The head of BHP's carbon management division, Graham Winkelman, asserted the role of renewable energy in its decarbonization efforts.
He said that to counter that growth in emissions, they plan to have "additional deployment of renewable energy before 2030, and further effort to deliver abatement across other emissions sources, including diesel, fugitive methane and natural gas."
Another means to further cut emissions that BHP is currently exploring is 'dynamic charging', which it will try at its Western Australia and Chile mines. This will allow its haul trucks to be charged even when actively operating. 
Haul trucks are the biggest consumer of diesel in Australia and the mining giant opted to switch to electrified fleet. 
Switching to electric haul trucks will cause power demand to go up. The company will meet that rising demand by building 500 MW of renewable power and storage. It will also help reduce the miner's energy use emissions.  
In 2022, more than 11% of BHP's energy use came from renewable power. 
When it comes to emission sources, the mining company's coal mines in Queensland are the single largest polluter in its Australian operations. It emits about 50% of its carbon footprint, with a third coming from methane leaks. 
To fix this issue, BHP plans to capture 50% of that leaking methane and use it to produce electricity. The company then added that it's seeking other solutions to meet its long-term net zero goal by 2050.  
And one of them is using carbon offsets, or carbon credits. 
BHP's Use Cases for High-integrity Carbon Credits
Winkelman pointed out the role of carbon credits in its net zero pathway. He said that: 
"We maintain the option to use high-integrity carbon credits for GHG emissions that cannot reasonably be entirely avoided. And while unlikely to be necessary for our 2030 target, we can anticipate the need for some carbon credits to deliver on our net zero goal." 
He further added that they may need carbon credits as part of compliance requirements under Australia's safeguard mechanism. 
In 2021, BHP retired 300,000 carbon credits that offset the increase in its operational emissions for that year. The credits were from forest projects like the Cordillera Azul National Park REDD+ Project and the Kasigau Corridor REDD Project.
BHP has 5 potential "use cases" for carbon credits to complement the structural emissions abatement they prioritize. 
The mining company gets its carbon credits from various sources such as project origination and spot markets. BHP considers offsets both from projects that remove and avoid carbon emissions. While they prioritize carbon credits from nature-based solutions, they're not closing doors for offsets from engineered or technological solutions.
Last year, the miner explored generating carbon credits from its mining waste products in a process called 'carbon mineralization'.
BHP's revelation of short-term spikes in its carbon emissions still comes despite having less ambitious net zero targets than other large Australian miners. 
For instance, Rio Tinto Group, world's second largest mining firm, has a bigger reduction target of 50% by 2030. Meanwhile, Fortescue Metals Group, fourth-largest iron ore producer in the world, aims to hit net zero emissions by 2030. 
Reaching BHP's 2050 net zero emissions goal will be "neither linear nor easy, but it's achievable," says Winkelman.