According to a report by Getting to Zero Coalition, carbon prices might reach $360 per tonne by the 2030s.
The Getting to Zero Coalition is a collaboration of the Global Maritime Forum, Friends of Ocean Action, and the World Economic Forum.
Carbon dioxide currently accounts for 98 % of shipping GHG emissions.
The addition of LNG-powered tankers may cause carbon credit prices to soar even further.
LNG produces methane gas which has 25 times the emissions as carbon dioxide.  So one metric ton of Methane is equivalent to 25 carbon credits.
The 25x is conservative and based on a 20-year time frame. Over a 100-year timeline, methane can have over 80 times the equivalent emissions as CO2.
The report analyzes two scenarios in which emissions are lowered by 50% or 100% by 2050.
In each case, a carbon price is implemented beginning in 2025, with GHG emissions peaking in 2030.
To achieve a 50% decrease in GHG emissions by 2050, the carbon price level should average $173/tonne CO2.
In the event of complete decarbonization, the average carbon price would be roughly $191/tonne CO2.
In both scenarios, the price level begins at $11/tonne CO2 when introduced in 2025 and ramps up to around $100/tonne CO2 in the early 2030s, at which point emissions begin to decline.
The carbon price subsequently rises to $264/tonne CO2 in the -50% scenario and $360/tonne CO2 in the -100% scenario.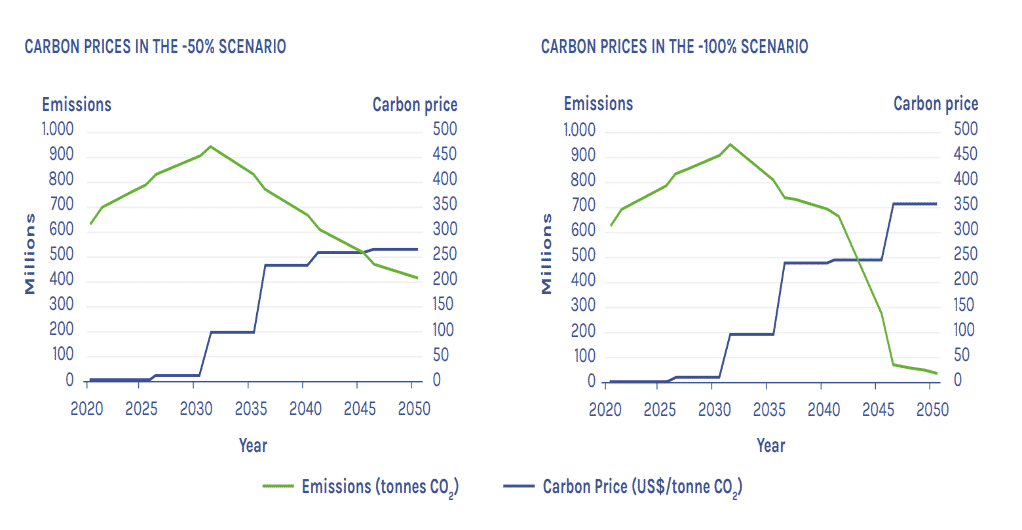 Last year, the Intergovernmental Panel on Climate Change, a body of scientists and others from 195 countries, warned that methane was a crucial component of LNG and that it needed to be reduced if the Paris targets of keeping global warming to 1.5 degrees Celsius or less were to be fulfilled.