Frontier, a carbon removal fund backed by Google, Stripe, and other large companies, has closed one of the biggest carbon removal deals in history worth $53 million with Charm Industrial. 
Charm Industrial is a San Francisco-based carbon removal startup that takes waste biomass and transforms it into bio-oil, and then injects it deep underground to store permanently.
Frontier is a coalition backed by the tech giants aiming to spend about $1 billion on advanced buying of carbon removals. Its main goal is to speed up the development of carbon removal technologies and build strong future demand for them.
The $53 million that Charm will receive is in exchange for removing 112,000 tons of CO2 between 2024 and 2030.
Enabling Carbon Removal Startups to Scale
Legally, Frontier is a public benefit LLC wholly owned by Stripe, but is co-founded by other big tech companies including Meta, Shopify, McKinsey, Alphabet, and more. 
The coalition represents the growing interests of major corporations to ramp up the growth of the carbon removal industry. Its offtake deal with Charm is a legal agreement to buy future tons of CO2 removals at a set price.
Though the price per metric ton wasn't disclosed, a rough estimation would make it into $473/t. Three years ago, Stripe paid Charm $600/t by removing and storing 416 mt of carbon.
Up until the Charm agreement, Frontier had committed only half a million dollars in pre-purchase deals with early-stage startups. But despite the small amount, the funding support helps carbon removal companies to speed up technological development. 
Frontier head, Nan Ransohoff, pointed out that some of these early companies will deliver tons of removals while others won't. But that's fine. Most of the carbon removals will come from Frontier's offtake funding track, which will see more deals coming. 
Ransohoff further said that:
"Over the past three years, Charm has gone from concept to delivering thousands of tons in a relatively short period of time, which is a demonstration of great execution. This team is moving very quickly."
How Does Charm Remove CO2?
Since it started operating in 2018, Charm managed to remove over 6,000 tons of carbon. The deal with Frontier will prompt Charm to rapidly ramp up its CO2 removal capacity. 
The carbon removal startup pioneers a novel way of removing and storing CO2 underground for good. It takes waste biomass like corn stalks, transforms it into boi-oil, and pumps it underground in EPA-regulated wells. 
What makes Charm's process unique is how its removal works shown below. That's through the process that the company's CEO, Peter Reinhardt, describes as "half-assed gasification". The gasification process involves pyrolysis – the heating of an organic material like in the absence of oxygen.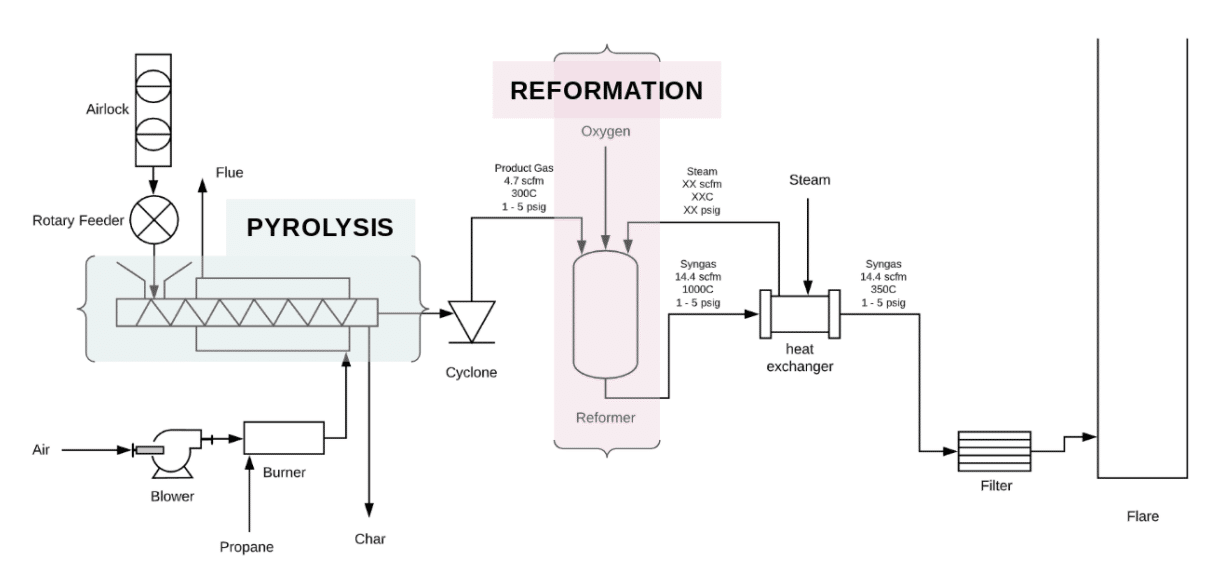 The process produces bio-oil using a pyrolyzer machine that can fit into the back of a semi-trailer. This allows Charm to pull right up to farms and perform the process right at the edge of the fields. 
Reinhardt said that most of their sequestered bio-oil so far has been bought and not created by their own technology. But he believes that with the Frontier deal, they can scale up the process and build more pyrolyzers and mobile facilities. 
Frontier's team of scientists and technical people will also help Charm and other carbon removal startups gain more traction. The $53M will cover the costs of Charm's removal projects and the measuring, reporting and verifying (MRV) to ensure quality. 
Commercializing Carbon Removal
The race to net zero requires removing billions of tons of carbon each year by 2050. The carbon removal industry removes only a few thousand tons right now. And this makes offtake deals like Frontier very important to ensure the industry has the runway to take off.
Frontier is not alone in this race of commercializing the industry. A growing number of companies are willing to pay the high cost of removing and storing carbon to balance out their emissions.
Another group formed by Alphabet, Microsoft and Salesforce, called the First Movers Coalition, committed $500 million to removing CO2. The tech coalition aims to decarbonize industry and transport.
Other corporations are also supporting carbon removal initiatives to help the world reach net zero emissions by mid-century. 
Their carbon removal purchases are a part of the voluntary carbon market, where each metric ton of carbon removed earns one credit. 
Charm Industrial said it expects carbon removal prices to go down to $100/ton by 2040 from $600/ton today. The expected price is what many experts believe the industry needs to reach to commercialize and attract more buyers.